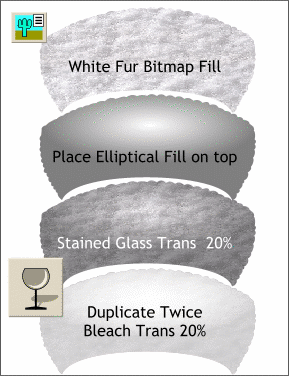 Make a duplicate of the fur hat band shape and apply the White Fur Bitmap fill. Here's how:

Import (File > Import) the file

white_fur.jpg into Xara. (or click the file name to download the fill online). Select the duplicate hat shape, open the Bitmap Gallery on the Infobar, select the white fur fill, and click Fill to apply the fill.

Center the radial-filled shape on top and apply a Flat, Stained Glass transparency, 20%. Make a duplicate (Ctrl K), change the type to Bleach and the amount to 20%. Duplicate the Bleach shape.

This imparts dimension to the fur hat band.