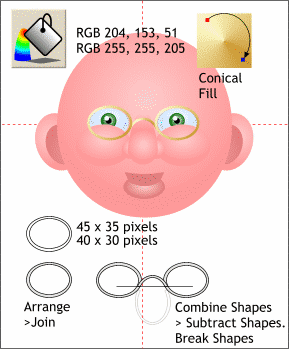 Gak! More ellipses! Draw two small ellipses as shown under the face. Select both ellipses and from the Arrange menu select Join.
Make two duplicates. Rotate one duplicate 90 degrees and position it between the two horizontal ellipses. Using the Pen Tool, draw a straight line that intersects the vertical ellipse at the place where it overlaps the horizontal ellipses.
Select the line and the vertical ellipse and Combine Shapes > Subtract Shapes (Arrange menu). Then select Break Apart (Arrange menu). Delete the lower portion of the vertical ellipse.
Apply a Conical Fill to the left ellipse using gold and very pale yellow. Rotate the conical fill so the lightest portion is at the top left. Copy the fill (Ctrl C) and Paste the fill attributes to the other two shapes (Edit > Paste Attributes or Shift Ctrl A ) Group the three elements and place them over Santa's eyes.