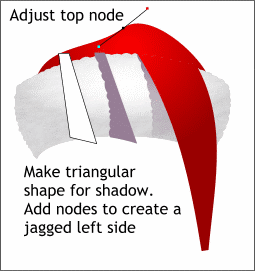 Position the two shapes over the fur hat band as shown. Select the top portion of the hat, then select the top center node with the Shape Tool. Change the Node Joint to Smooth Join by pressing the Smooth Join curved icon on the Inforbar. Click the node to make the control handles appear and drag the right handle upwards to give the top of the hat a jaunty shape.
Using the Pen Tool, create a triangular shape for a shadow under the red pointed portion of the cap.
Using the Shape Tool, add nodes as we did for the white fur portion on the left side only. Shape the line segments into little curves.
Apply a muted purple fill using RGB 150, 125, 150. Position the shape as shown and apply a Linear Transparency that gets lighter as it goes downward. Select the overhanging section of the red hat and bring it to the front of the shadow (Ctrl F).