Light Fantastic.
This month we'll create a brass table lamp with a green glass shade. I used to have one of these lamps though it is now long gone. As I was not able to find any decent photographs of the lamp I had in mind, I created it from memory.
On. Off. On. Off. The animated light going on and off endlessly uses only two small JPEG images. The effect of more frames fading is a result of Xara Modules Cross Fade effect. I adjusted the speed to 8 (default is 3 or 4 and much slower). Makes a convincing animation and provides a preview of this month's tutorial.
You can't beat this? For a mere $11.95 per month, you can access all the Xara Modules web graphics, photo and text effects. For $119 per year you get a free copy of Webstyle 3. (Christmas is just around the corner. Buy someone a gift (Webstyle 3) and give yourself a terrific package of web effects at the same time!)
The Cross Fade animation is one of 9 Xara Modules in the Photo Edits and Effects collection. I created the effect in under 5 minutes. No kidding. It's this easy:
Upload the images you want to use to the Xara Modules site.
Select Cross Fade > Create > New.
Add the images you want to use and determine the speed and Alt text.
Save and Publish.
Xara Modules gives you a line of script which goes into your HTML page, and which plays the JavaScripted action when your visitor visits your web page. I think you can probably think of at least a dozen creative uses for this and some of the other 8 cool effects.
All modules come with a free 15-day trial period. If you don't like the effect, you don't pay for it (of course you can't use it after 15 days if you don't pay for it). And, I need not remind you who makes these free tutorials free. Eh? (HINT is rhymes with Clara!) and just happens to be the company that makes the best vector graphics software.
So do me and yourself a favor and pay a visit to the Xara Modules site. There is some really cool and fun effects that will add spice to your web site.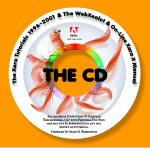 Tired of downloading and printing out the Xara tutorials and WebXealots? Now you can have all the Xara Tutorials through the first of the 2002, and all the WebXealots including the Xara X On-line Manual, on one CD in Adobe PDF file format (A copy of Acrobat is included on the disc). The disc is only $20.00 US for US and Canadian residents and $22.00 US for persons outside the USA or Canada. And the price includes shipping. Click the image for more information.