Desert Cactus (About to bloom).
How dry is it where I live? Dry enough that the cotton tail rabbits eat the cactus! That's pretty dry. The average rainfall for the state of New Mexico is about 8-10 inches. Per year!
Suffice it to say New Mexico is not a tropical rain forest. But the vegetation that grows here can be quite exotic. The paddle cactus (subject of this month's tutorial) is a good example. Most of the year it grows very slowly and does not change much. But in the spring, elliptical buds form and then open into exquisite yellow blossoms. In this tutorial, we'll create a desert landscape with a cloud-filled sky, and a paddle cactus, about to burst forth in bloom.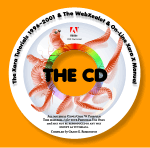 The CD is Here! Just in case you have not heard: All the Xara Tutorials and WebXealots on one CD in Adobe PDF file format (Adobe Acrobat reader is included on the disc. Click the disc for more information.
The slide show (three photos plus this month's final image) was created with Slide Show from Xara Modules. (You will need to be connected to the Internet to see the cool effect). As you can see, 99.3% of the finished cartoon face is comprised of beveled shapes. And even though there are a lot of steps in this tutorial (about 45 I think), it is easy enough for new users to tackle and yet challenging enough for experienced users too.
The Slide Show is one of 9 Xara Modules in the Photo Edits and Effects collection.
Xara Modules gives you a line of script which goes into your HTML page, and which plays the JavaScripted action when your visitor visits your web page. I think you can probably think of at least a dozen creative uses for this and some of the other 8 cool effects.
All modules come with a free 15-day trial period. If you don't like the effect, you don't pay for it (of course you can't use it after 15 days if you don't pay for it). Each module runs under $3.00 US per month or $29.00 a year. If you buy the entire package of 9 effects, however, you pay only $4.95 US per month or just $49.00 a year. You save this much not having to pay for these tutorials alone! And, I need not remind you who makes these free tutorials free. Eh?
So do me and yourself a favor and pay a visit to the Xara Modules site. There is some really cool and fun effects that will add spice to your web site.