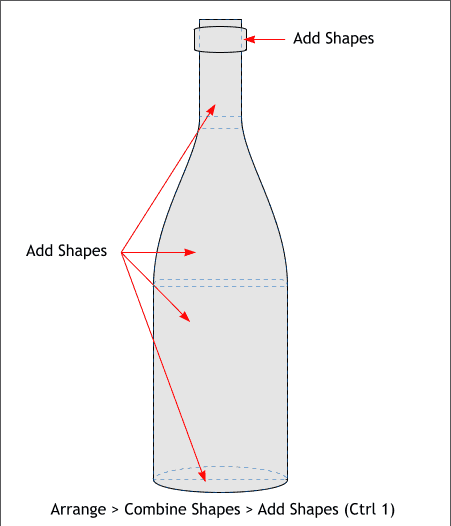 Select the two small ellipse and the small rectangle at the top of the bottle. There are several methods you can use to select multiple objects: Hold down the Shift key and click on each object, or simply drag a selection rectangle (a marquee) around all the objects with the Selector Tool (the arrow pointer).
With the three shapes selected, from the Arrange menu, select Combine Shapes > Add Shapes, or use the convenient keyboard shortcut, Ctrl 1. This creates a combined shape with a single outline.
Select the 96 pixel deep rectangle that you used for spacing and delete it.
Select the neck, shoulder and bottom rectangle and ellipse and Add Shapes.
In short order we now have a fairly convincing bottle shape. The blue dashed outlines represent the shapes that have been combined into one.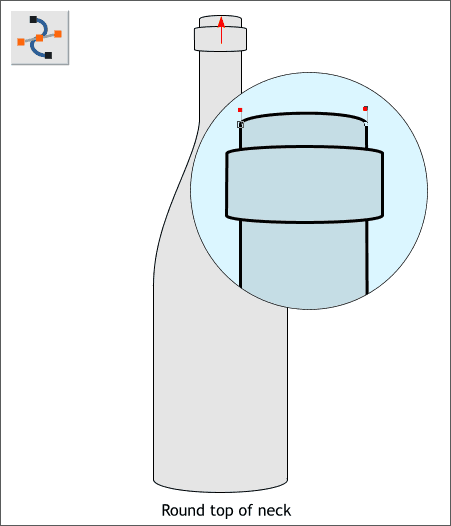 Select the top of the bottle, then switch to the Shape Editor Tool (F4). Drag on the top of the bottle just enough to create a small curve. Edit the top two control points as shown to slightly round the edges.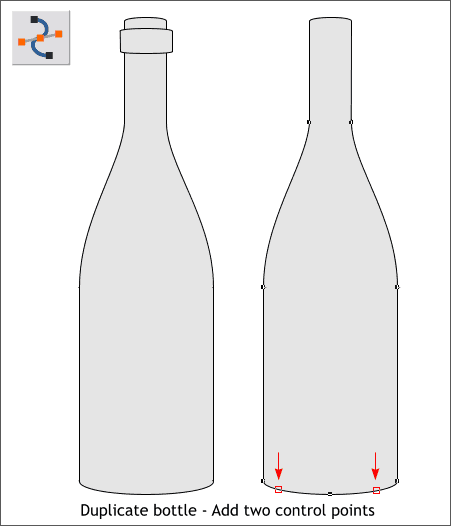 With the bottle shape selected, press Ctrl d to create a duplicate.
Switch to the Shape Editor Tool (F4) and click on the bottom curve outline of the bottle about 15 pixels in from the left side to add a control point. Add another control point the same distance from the right side of the bottom.
NOTE: Most of Xtreme's tools can be used to select an object. But not the Shape Editor Tool. So in order to edit an object with the Shape Editor Tool , the object must first be selected with another tool, which in most cases is the Selector Tool (the arrow pointer).
So, why did we add the two extra control points? You'll find out on the next page.