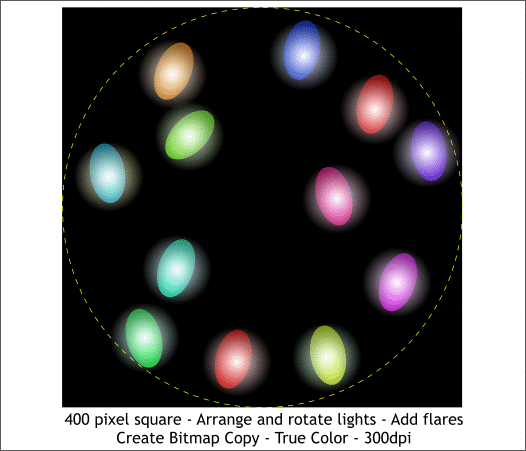 Create a 400 pixel square. Apply a black fill. Center a 400 pixel circle over the square with a black fill and a light colored outline.
Arrange the lights and rotate each so they are all different. Keep the lights just inside the circle as shown.
Place the appropriate colored flare shapes over the lights. When you have finished, delete the black circle.
Right click on the black square and from the pop up menu, select Create Bitmap Copy...
Select True Color from the Color Depth drop down list and from the Bitmap Size drop down list, select 300dpi. Press Create.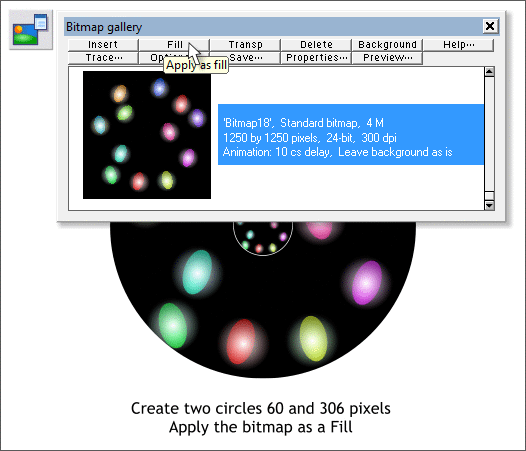 Create two centered circles, 306 and 60 pixels in diameter.
With both circles selected, open the Bitmap Gallery (F11). Select the bitmap and then press Fill.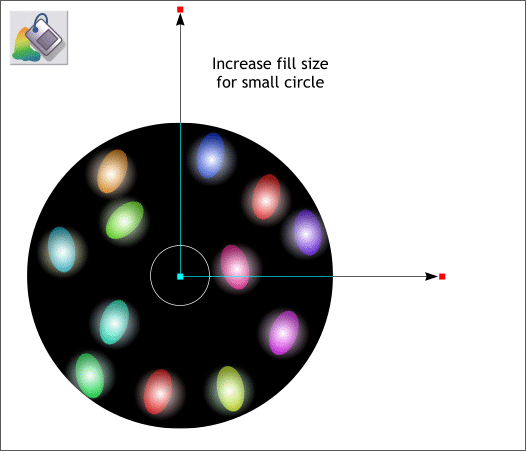 Select the smaller circle with the Fill Tool (F5). Click on either of the end points at the ends of the fill path arrows.
Hold down the Shift key and press the right arrow key on your keyboard to increase the size of the fill until the fill path arrows are about the same distance as shown above. The Shift key increases the distance per arrow click by 10 times the default.
Save your drawing and take a short break. We are almost finished.