A MAPPED TEXTURE STEREOGRAM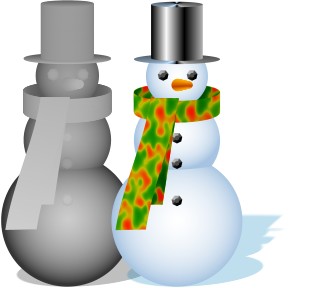 Stereograms are magical 2D images that when viewed correctly look 3 dimensional. In this tutorial, we'll create the two images shown above. We will use these two images to create what is called a Mapped Texture Stereogram. Unlike hidden image stereograms, where the hidden 3D image is not visible, in Mapped Texture Stereograms, the image is fully visible. The visible image repeats several times and subtle changes are made to each repeating image. The eye may not see these subtle changes but the brain does and constructs what appears to be a floating 3D image. For more information on how stereograms work see The Stereogram Guide.
The image on the left is called a Depth Image. A depth image is created with lighter areas coming forward and darker areas going back. The color image on the right is called the Texture or Color Image. To put the two images together and make a Mapped Texture Stereogram, we will use a stereogram creating application called Stereographic Suite 2 from IndaSoftware. You can download a free trial copy here to use with this tutorial.
I am not going to go into any detail on Stereographic Suite 2. The Help files give a good explanation of the product. I will just say that the Suite consists of three modules: Modeler, in which you can create 3D models, and color images for Mapped Texture Stereograms, Texture Maker, for creating textures for stereograms, and Stereogram Generator, which creates both hidden image stereograms and Mapped Image Stereograms. You will need to download Stereographic Suite 2 for this tutorial. It is a really cool application with a ton of great features and I have a feeling that if you like creating stereograms, you will love this application.

A Word from Our Sponsor:
Xara makes several graphics products and all of them are fun and easy to use. And Xara makes this site possible so it would be nice if you just went to these pages and had a look see. Thanks.
You are probably aware of Xara Xtreme but have you downloaded Xara Xtreme Pro? All the tutorials in this Workbook are done in Xtreme Pro, so if you don't have it, get it now.


Click here to download your FREE trial version
or to upgrade to Xara Xtreme Pro today!
Here are some other products made by Xara and links to the Xara.com Website.
CLICK HERE
to download a Zipped HTML version of this tutorial
(816K)
©2008 Gary W. Priester
Tutorials are for private use only. No text or images may be used or reproduced in any form without the express written permission of the author.