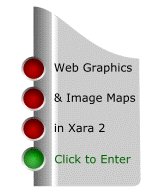 This month we exploit Xara's greatest strength, Web graphics. Taking advantage of some of Xara 2's new features, we'll create a web page background, and a title bar/image map. The graphic above this paragraph is an Image Map created in Xara 2 with a two frame animation. Click the flashing green button to start the tutorial.
This month's tutorial is available in HTML form for you to download
and review off line. Just click on the download tutorial button.
Download Tutorial

©1998 Gary W. Priester
Page: 1 | 2 | 3 | 4 | 5 | 6 | 7 | 8 | 9 | 10 | 11 | 12 |