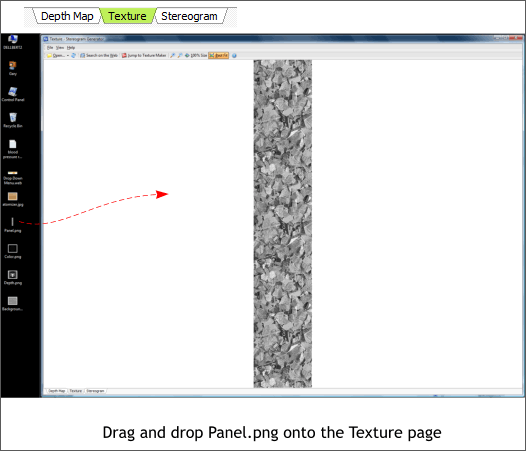 Click the Texture tab at the bottom of the window.
Drag and drop the file Panel.png onto the window.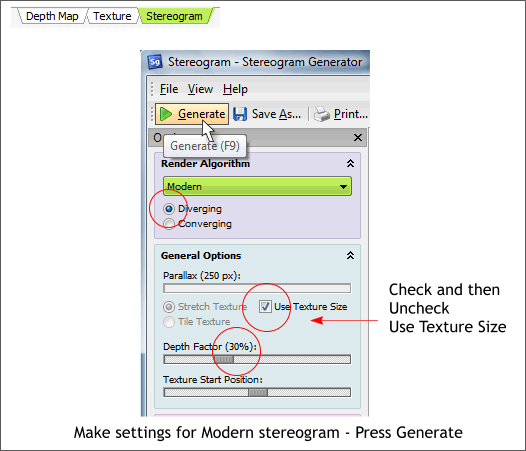 Click on the Stereogram tab. Check Use Texture Size then uncheck the box. This sets the width of the repeating panel to the width of the Panel.png file. Set the Depth Factor slider to 30%. I generally work between 20-30%.
Select Modern from the Render Algorithm drop down list. Modern is the classic hidden image stereogram. And check Diverging. (Diverging creates a stereogram that you view with your eyes looking straight ahead. Converging creates a cross eyed stereogram).
Press Generate or F9. There is a small check box at the bottom of the Stereogram window Generate Automatically. I usually leave this box unchecked and press F9 to generate the stereogram. With large images it is often easier to change all the settings one time and then generate the stereogram as opposed to each time you make a change, which is what happens in Generate Automatically mode.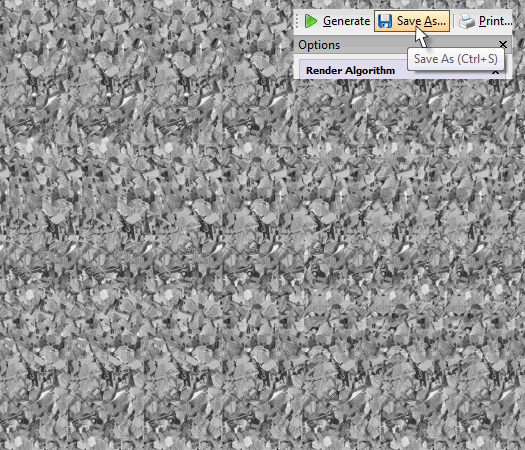 Here is the first stereogram. Notice how round the sphere looks. A normal circular fill with no profile produces more of a cone shaped object.
Press Save As... Name the image Background and export as a PNG image to the Desktop.
NOTE: The stereogram may look odd. Because of the resolution, it may fill more than the visible window in Stereogram Generator. Press the Best Fit button at the top of the screen to fit the entire stereogram into the window.