Flash Animation

Now that Xara Xtreme 3.2 has Flash Animation capabilities (as well as Xtreme Pro) it seemed timely to create a complex Flash animation. While there are some things that Xtreme and Xtreme Pro cannot do in Flash, it does not mean you can't create some very sophisticated and complex animations. All it takes is a little imagination and a bit of knowledge how Xtreme handles Flash. As this is one of my longer Xara tutorials, 40 steps, I am not going to try to cover the Flash basics here. If you need to get up to speed on Flash, see Flash Animation Basics and Creating a Simple Flash Ad Banner.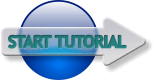 A Word from Our Sponsor:
Xara makes several graphics products and all of them are fun and easy to use. And Xara makes this site possible so it would be nice if you just went to these pages and had a look see. Thanks.
You are probably aware of Xara Xtreme but have you downloaded Xara Xtreme Pro? All the tutorials in this Workbook are done in Xtreme Pro, so if you don't have it, get it now.


XTREME 3.2 IS HERE!
Click here to download your FREE trial version
or to upgrade to Xara Xtreme Pro today!
Here are some other products made by Xara and links to the Xara.com Website.
CLICK HERE
to download a Zipped HTML version of this tutorial
(816K)
©2007 Gary W. Priester
Tutorials are for private use only. No text or images may be used or reproduced in any form without the express written permission of the author.