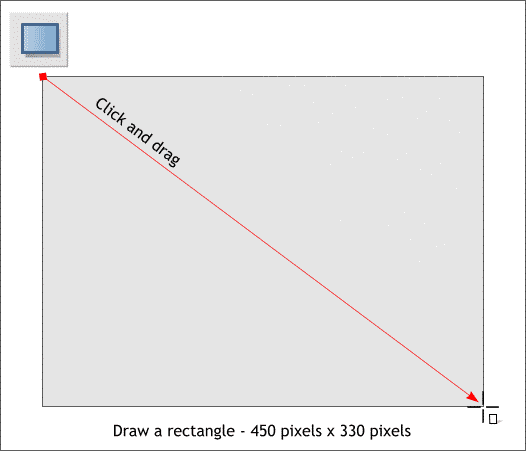 Select the Rectangle Tool (Shift F3) and draw a 450 x 330 pixel rectangle. You can use the same tip as for the circle. Draw a rectangle, then enter the width and height in the Width and Height text entry boxes.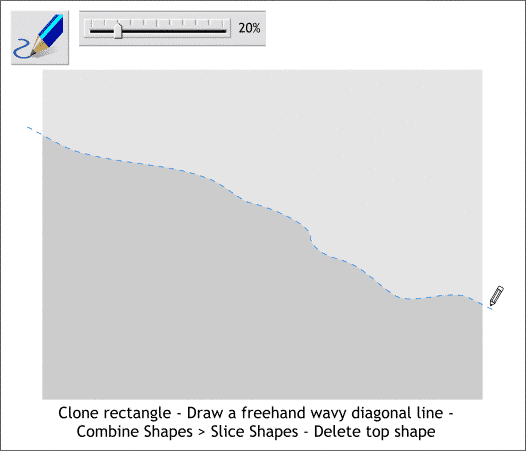 Clone (Ctrl k) the rectangle. This makes a duplicate rectangle in the same position as the original.
Select the Freehand and Brush Tool (F3). Set the Smoothness slider on the Infobar to 20. The Smoothness slider determines the accuracy of a freehand drawn path. Lower settings produce a more accurate line while a setting of 30 or higher produces a progressively smoother line. Draw a wavy diagonal line as shown above.
Let the start and end of the line extend off the rectangle. Select the line and duplicate rectangle (hold down the Shift key and click on the line then click on the rectangle to multiple select).
From the Arrange menu, select Combine Shapes > Slice Shapes (or keyboard shortcut Ctrl 4).
The line will disappear and the rectangle will be sliced into two sections. Select the top section and delete it. I have given the two shapes different fill colors to make it easier to see the two shapes.