Christmas 1997 Revisited.
I like to think that over the years that I have been creating Xara tutorials (I started in the middle of 1996!) that you and I have both have been improving our skills. In December of 1997 I created one of those water-filled glass spheres inside which snow falls on a variety of objects. I featured a snowperson (a gender-correct snowman) in mine. Using the 1997 image for inspiration, I recreated the tutorial from scratch using many of the Xara X tools and features that were not available in 1997. I think the 2002 image shows signs of improvement. But I am prejudiced. You tell me if this is an improvement or not.
You can't beat this? For a mere $11.95 per month, you can access all the Xara Modules web graphics, photo and text effects (such as the falling snow in the image above). For $119 per year you get a free copy of Webstyle 3. (Christmas is just around the corner. Buy someone a gift—Webstyle 3—and give yourself a terrific package of web effects at the same time!)
The effect I have used to animate the snow person image is appropriately enough called Snow and is one of a bunch of cool effects included in the package for $11.95 per month. Snow is magically applied over the image you specify and is as easy as an effect can be. You need to be connected to the Internet to see the effect as the actual effect lives on the Xara Modules servers and is accessed via an HTML link.
Xara Modules creates a line of script which goes into your HTML page, and which plays the JavaScripted action when your visitor visits your web page. I think you can probably think of at least a dozen creative uses for this and some of the other 8 cool effects.
All modules come with a free 15-day trial period. If you don't like the effect, you don't pay for it (of course you can't use it after 15 days if you don't pay for it). And, I need not remind you who makes these free tutorials free. Eh? (HINT is rhymes with Clara!) and just happens to be the company that makes the best vector graphics software.
So do me and yourself a favor and pay a visit to the Xara Modules site. There is some really cool and fun effects that will add spice to your web site.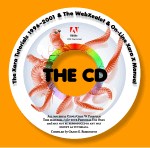 The Perfect Christmas Gift! Tired of downloading and printing out the Xara tutorials and WebXealots? Now you can have all the Xara Tutorials through the first of the 2002, and all the WebXealots including the Xara X On-line Manual, on one CD in Adobe PDF file format (A copy of Acrobat is included on the disc). The disc is only $20.00 US for US and Canadian residents and $22.00 US for persons outside the USA or Canada. And the price includes shipping. Click the image for more information. Aside from a new version of Xara, THE CD is the perfect Christmas Gift for those you love!