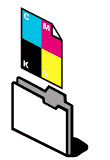 Minimiro's CMYK Color Model Template

The Problem: If you plan to export your graphics to other graphics applications and work in CMYK color space, you must change color model of your template. In the Color Gallery (F9), you have to manually predefine the CMYK color model, because by default—never mind what Color Model you select in the Page Options menu, the colors in color gallery are displayed in the HSV model.
The Solution: The CMYK Color Model Template is configured to work in CMYK color space and will display colors using the CMYK Color Model.
Download the zipped file. Open it, and save it as template! (File > Save As Template...). Save it in the Xara Templates folder so that it will be available when you go to File > New... (to display the template files). Unless you plan to make this your default template, do not check the Use As Default Template check box. Click here to download the template (3K).
NOTE: You may need to set your Color Units (Utilities > Options > Units) to Percent (%). Xara uses your current color units setting. Also, you may need to change Edit Local Colors in: (View tabbed section) to CMYK as Xara uses your current settings for this too.