It's not carved in stone. But it's burned on a CD!
For years, I have been getting requests for a Xara book, or at the least a CD with all the tutorials on it. Well here is something that is even better. Thanks to Grant E. Remington, all of the Xara tutorials from The Trompe L'Oeil Room on i/us and the XaraXone (1996-2001) and all the WebXealots 1-35 and including the Xara X On-line manual and Glossary are now on one CD disc. That's not all. Grant has laboriously recreated each tutorial in Adobe PDF file format (the Acrobat reader is included on the disc) for easier viewing and more efficient printing. Cool? You bet it is.
It gets better. Tracie Beagle generously indexed the entire CD so you can find what you are looking for in seconds.
And Xara Ltd. has generously provided 20 really cool fonts that are not included on the Xara X CD. They have also included trial versions of Xara 3D 4, the world's easiest and coolest little 3D and 3D animation application, and Xara WebStyle 2 for creating professional quality Web site graphics even if you have no talent whatsoever. Really!
Grant is offering The CD (that's what we are calling it) for only $20.00 US (USA and Canada) and $22.00 US (International) and he is including all shipping and handling charges. Be the first kid on your block to own The CD. Click here to go to the order page.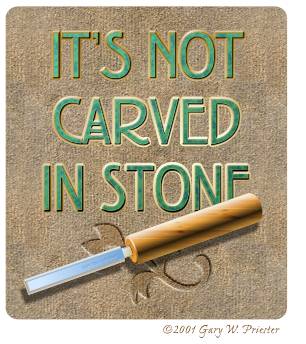 Sometime last summer, there was a thread in the Xara X Conference in which we tried to create a carved in stone effect. I remembered this image I had contributed to the thread and thought it might make a good tutorial. Only as you will see on the inside, it turned out to be carved in wood. Old, weathered wood.
Thanks to Xara Modules for letting me use the Cross Fade animation effect to promote The CD. Cross Fade is one of 9 Xara Modules in the Photo Edits and Effects collection. You may have seen the snow falling on the palm trees image a few months ago, this is another part of the same collection.
I created the effect in less than 5 minutes. No kidding. It's this easy:
Upload the images you want to use to the

Xara Modules

site.
Select Cross Fade > Create > New.
Add the images you want to use and determine which way the images will flip (or use the default setting as I did).
Save and Publish.
Xara Modules gives you a line of script which goes into your HTML page, and which plays the JavaScripted action when your visitor visits your web page. I think you can probably think of at least a dozen creative uses for this and some of the other 8 cool effects.
All modules come with a free 15-day trial period. If you don't like the effect, you don't pay for it (of course you can't use it after 15 days if you don't pay for it). Each module runs under $3.00 US per month or $29.00 a year. If you buy the entire package of 9 effects, however, you pay only $4.95 US per month or just $49.00 a year. You save this much not having to pay for these tutorials alone! And, I need not remind you who makes these free tutorials free. Eh?
So do me and yourself a favor and pay a visit to the Xara Modules site. There is some really cool and fun effects that will add spice to your web site.