In this issue:
Xara X is Coming! Isn't It?
Well, I sure hope it's coming. Last I heard the release date was going to be around the 25th. I believe the announcement was made at the London Show. Everyone who signed up for the XaraXone News will be alerted the second Xara X goes on sale.
But you know, that is not going to stop me from continuing my Xara X Online Manual. Heck, maybe by the time we see Xara X the manual will be finished. Or perhaps your editor (that's still me) will be finished. Who can say, who can say.
This month's installment will not cover much new ground but should serve as a refresher for you longtime users and will serve as an introduction to you new users who have just joined the club. This month, we will explore the Selector Tool, The Freehand and Brush Tool (some new features here) and the Shape Editor Tool (even a new wrinkle or two here). I've tried to include as much information as I can. If I left something out, or if something is not clear, use the form on page 7 to contact me.
The winner of auto f/x's Studio Pro 2.0, which bills itself as Essential Design Tools for the Pros goes to Carl Walls, who lives in California. Carl writes, "I live in a state of Confusion most of the time (but physically and fiscally live in the state of California). To answer the other question as to the type of animal I would like to be, it would of course have to be a X-ebra. What other animal has two color blends?" What other animal indeed! Congratulations Carl and use it in good mental health. Since auto f/x was so kind to offer these cool prizes, I think it only fair to say a few words about Carl's prize. Studio Pro 2.0 includes Typo/Graphic Edges, Ultimate Texture Collection, Photo/Graphic Patterns, Universal Animator, Universal Rasterizer, Page/Edges and WebVise Totality. It's a really cool bundle of stuff.
Win a Copy of auto f/x Photo/Graphic Edges 10,000+!
I have one final package from auto f/x, Photo/Graphic Edges 10,000+. As you clever readers have probably figured out, this is a collection of a whole pile of photographic edges. If you find two you like it was worth the price, if you find three it was a bargain. But wait, there's more, also included in the box: Edge effects for Images (we guessed that), Sepia Tones and Mezzotints, Shadows, Glows and Bevels (use this until Xara X comes out), Burned Edges, Lightning, and Texture Mattes and More. Sounds pretty swell to me. I'll pick a winner next month if the box doesn't get lost in the big move.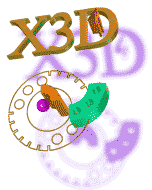 Xara 3D 4 is still available for $35 from

i/us or $39 from Xara.com. When you buy from i/us you help support the XaraXone . On the other hand, when you buy from Xara, you're supporting the Trompe L'Oeil Room. What to do? What to do? Xara.com or i/us? I'll leave it to your conscience.

To visit a handsomely designed and informative special Xara 3D 4 web site detailing all the new features, plus a mini-tour, a mini-tutorial, an order page and a free 15-day trial version version

CLICK HERE.

The new conferences are up an running. And running is the operative word if you remember how slow the old conferences had become. Check them out when you finish reading this month's WebXealot!

The

Featured Artist for September is Misha Petriychuk. Misha was born in Kyrgizstan (Asian part of USSR) and has a wonderfully delightful style not to mention take on the world. My favorite is the Bubble Gum Phone and Misha's dad. The September Trompe L'Oeil Room revisits leaded glass and is the second Xara X-specific tutorial.

The XaraXone News— Do you want to be informed of all changes in the world of Xara.

CLICK HERE to add your name to the XaraXone News e-mailing list. Once you subscribe to the list you'll be notified of all matters relating to Xara, the Trompe L'Oeil Room tutorials, the Xealot and the XaraXone. Subscribe now before you forget.

I apologize for the brevity of this month's Xealot but with the big move two weeks away and the CorelWorld Conference next week, it's all I could do to get this issue completed at all. I promise to make up as soon as I get settled at the other end.

Feedback is always welcome, as are questions and even criticisms. Even criticisms. Did I say that last month? Ah well. when you get older you repeat yourself.

CLICK HERE to send feedback.