In this issue:
Rumblings about Xara X!
Things are happening. I'm not sure what. Nobody at Xara is talking. But my hunch is we're getting very close to Xara X. I have Beta 5 and it's looking very good indeed. There are a few features from earlier versions that have gone away, shaped lines, similar to DRAW's natural media pen, and grouped transparency are two that come to mind. But then there are some new features which are looking as if they will make the shipping version. One of the best of these is support for pressure-sensitive drawing tablets. And even though the shaped stroked lines are gone, the brush strokes remain and have been made very adjustable as you will see. I will devote this edition of the WebXealot to a review of the new features to make sure we're all getting excited by the same things.
If your name is Rena Kallman you're the winner of the final copy of Macromedia's Fireworks 3 - Dreamweaver 3 Suite. In response to the question, "If you could be anything (or anybody) in the world, what (or who) would it be?" Rena replied, "I'd like to be Baxter after I've just learned how to sneak onto Gary's computer and log onto E-Bay!" This might just account for all those unexplained items on my last VISA statement. These cats, I tell you. You can't let them out of your sight for a minute!
As all the cats were laying low after I discovered they were on the take — you should have seen the disappointed looks on their collective little feline faces when I refused to sign for the FedEx package from the Fancy Feast people — I turned the drawing over to the doves. To avoid the inevitable ruffled feathers that would result from singling one of the four out, I said they could decide amongst themselves. The doves (a misnomer by the way, doves fight like cats and dogs, constantly) set about bickering over who was the most qualified. It was not a pretty sight. After waiting patiently, during which time Rhoda, the Rhode Island Red hen pecked and pecked at the back of my leg, I said you guys work it out and maybe you can draw next month's winner and turned around to the red devil and said, here, you like to peck everything, you draw. Except by this time, Rhoda had gotten bored and went pack to pecking and scratching in the dirt. And so the honors went to Cleo, the gentle Black Austrolorpe hen. She eagerly pecked out Rena's wining entry from the drawing basket thinking it was something to eat. It's never easy!
My friends at auto f/x , the people who created Photographic Edges, have sent me several products to review, which I am going to make available as prizes. For the first drawing I will be giving away a reviewer's copy (unopened) of Auto Eye, the cool new one-click image correcting application. It's a no-brainer. Open the bitmap image, click, and let Auto Eye automatically do the rest. Your image will appear as if you actually knew what you were doing!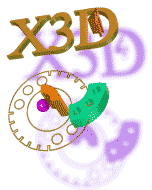 Xara 3D 4 is still available for $35 from

i/us or $39 from Xara.com. When you buy from i/us you help support the XaraXone. On the other hand, when you buy from Xara, you're supporting the Trompe L'Oeil Room. What to do? What to do? Xara.com or i/us ? I'll leave it to your conscience.

To visit a handsomely designed and informative special Xara 3D 4 web site detailing all the new features, plus a mini-tour, a mini-tutorial, an order page and a free 15-day trial version version

CLICK HERE.

Xara 2 is now a collector's item. As of July 1st all sales of Xara 2 have ceased based upon a mutual agreement between Corel Corporation and Xara, Ltd. To their credit, Corel's lawyers permitted sales to extend past the April 1 cut off date. So all we can do now is wait and hope that Xara X is ready soon.

The

Featured Artist for July is Nathan Heagy. Nathan instills a bit of his odd Canadian sense of humor and design into his work. I think you'll enjoy the exhibit. The July Trompe L'Oeil Room is called The Sci Fi Filler and uses fills from Saphires Xa-Fills 3 collection to create a science fictional image.

The XaraXone News— Do you want to be informed of all changes in the world of Xara.

CLICK HERE to add your name to the XaraXone News e-mailing list. Once you subscribe to the list you'll be notified of all matters relating to Xara, the Trompe L'Oeil Room tutorials, the Xealot and the XaraXone. Subscribe now before you forget.

Feedback is always welcome, as are questions and even criticisms. Even criticisms. Did I say that last month? Ah well. when you get older you repeat yourself.

CLICK HERE to send feedback.