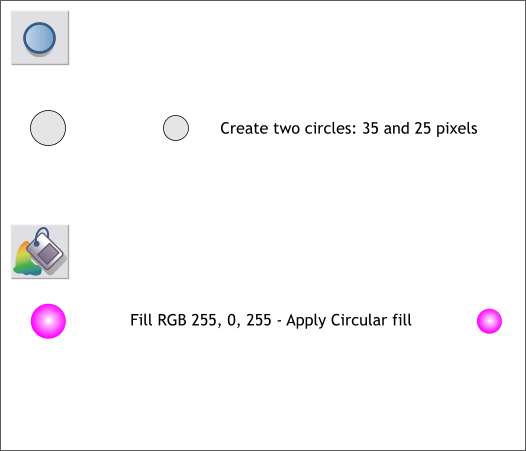 Select the Ellipse Tool (L). Hold down the Ctrl key (to constrain the ellipse to a circle), and draw a 35 pixel circle. Draw a second smaller 25 pixel circle.


TIP: The fastest way to create an ellipse or rectangle to an exact size is to first draw any size ellipse or rectangle, then with the tool still selected, enter the exact width and height on the Infobar at the top of the screen and press Enter to apply the change.
Select either of the circles and click on the Magenta color square on the screen palette. Select the Fill Tool (F5). From the drop down list of Fill Types on the top left area of the Infobar, select Circular. Apply a Magenta fill and Circular fill to the other circle.
TIP: Copy the circular filled circle to the clipboard (Ctrl c). Select the unfilled circle and from the Edit menu, select Paste Attributes or press Shift Ctrl a.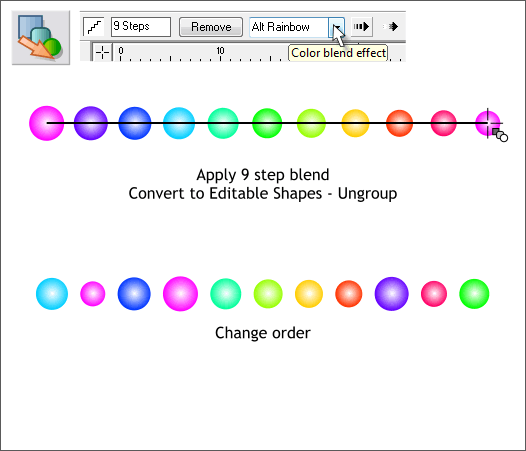 Move the two circles farther apart. Select the Blend Tool (F7 or W). Drag the Blend Tool from one circle to the other circle. Change the number of Blend Steps to 9 on the Infobar and press Enter to apply the change.
From the Color Blend Effect drop down list select Alt Rainbow.
From the Arrange menu select Convert to Editable Shapes (Shift Ctrl s). Then Arrange > Ungroup.
Change the order of the circles as shown above.