In this issue: Is Summer Half Over? Insider Information Xara Basics — A New Users Guide Using Templates in Xara 2 The TIP SHEET Win a second Copy of Alien Skin Xenofex!!! Is Summer Half Over?
This is one of those questions like is the glass half full or half empty. Even though August 15 is technically half way through Summer, almost imperceptibly, it begins to feel like Fall. There's just something in the quality and direction of the sunlight. Why do I mention this? No reason, your editor just felt like sharing something personal with you, that's all.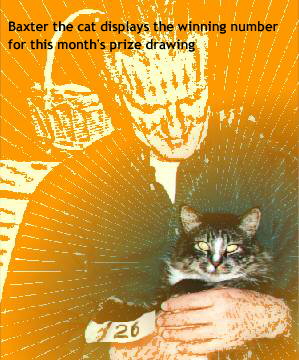 Martin Jelsema can thank Baxter, the formerly feral Maine Coon Cat, for drawing his number out of the prize bag for the copy of

Alien Skin's Xenofex (referred to incorrectly last month as Xenoflex) the cool selection of Plug-in filters for Photoshop that also work great in Xara. All but two of you clever readers guessed that the guy in the photos was your editor. We had one entrant who opted for Alfred E. Neuman, of Mad Magazine's what me worry fame, and one reader guessed that the guy in the photo was Wilbur Finch. My legs are thin, but not that thin, thank you very much!

When your editor (that's me providing the platform for Baxter), is not writing the Xealot, he writes for other publications including Publish Magazine. In a recently completed Vector Workshop article (due out in October) a variety of plug-in filters were applied to bitmaps created from vector images created in CorelDRAW, Illustrator and FreeHand. Of course, while I was test-driving some of these filters, even though Publish Magazine doesn't consider Xara to be in the same league as the previously mentioned applications, I had to test them in Xara as well. The image superimposed over the photo of me and Baxter (sounds better than the grammatically correct Baxter and me) was created with Andromeda Software's Series 3 Screens filter. This filter converts a grayscale image into a 1-bit pattern of lines or small dots (Andromeda calls them worms and measures the resolution of an image in WPI worms per inch) called a mezzotint. The filter sells for $99.00 US and works great in Xara. For more information visit

Andromeda's Web Site. This filter is not available from i/us although I think something may be in the works.

The Featured Artist for the month of August is Joe Skeesick, graphic artist, web site designer, illustrator and moderator for the XaraXone Xara Conference. The August Trompe L'Oeil Room gets a bit dicey this month. The image is a transparent glass dice. It's one of the better ones so be sure to check it out.

There are several new goodies in the

Shareware Page including some helpful new templates. Joel Schilling has contributed four new templates including a ten-card template for printing business cards on die-cut Avery business card sheets. Thanasis Siozos , has created a template (actually a full tutorial in template form) that aids in the creation of Harmonious Colors. There are several color models with a rotating dial to help the color-challenged design harmonious color schemes. It's really quite helpful. Thanasis has also posted a downloadable free software utility called The Art Enhancer that can subtly shift colors in bitmap images. Joel Schilling has generously created a tutorial for using his templates included in this issue.

Finally, starting this month, and for as many months as your editor (I think that's me) can remember to do it, there will be a page of basic Xara fundamentals for our new readers. You old timers might drop by as well and see if I've left any thing out.