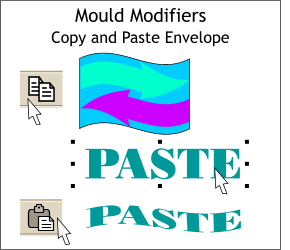 Sometimes you may want to copy an Envelope's shape and give it to another object as illustrated on the left.
The operation is simple. Select the enveloped shape you wish to copy (it must have an envelope shape applied), select the Mould Tool, and press the Copy Envelope button.
Select the object to which you want to apply the envelope shape, and press the Paste Envelope button on the Infobar.
NOTE: As with many of Xara X's tools, you can now select an object with the Mould Tool instead of selecting it first with the Selector Tool (the pointer).