Covered in this month's Workbook: Logos, Business Cards and Letterheads
The July Xara X tutorial revisits takes a new look at an old subject, leaded glass, using some of the new Xara X1 features to add some new twists. Paul Söderholm makes an old photo look practically like new using Xara X1 and XPE in the July Guest Tutorial. The July Featured Artist Gallery continues our Group Shows. Included in this Group Show are: MIchael Cartwright, Simon Beck, Daren H. Spencer and Simon Kelly. If you would like to be considered for one of the group shows, e-mail me and let me know where I can see a few of your images.
I am accepting your contributions (Tips, Brushes, Templates, stuff like that). I'm starting to run out of ideas and could use your input. If your site has Xara graphics and is not listed, send me your link and a brief description of how you have used Xara on your site.
Xara X¹ is Here!!!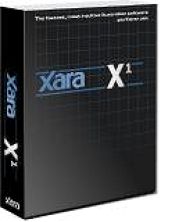 A great place to start investigating the new version is the Xara X forum on TalkGraphics where the big chief from Xara kicks off the X¹ thread with a very detailed account of what's new.
For the main course, check out the new Xara site at xara.com/xarax (the whole site has a complete makeover to celebrate the X¹ launch), where you can download the free 15 day trial of Xara X¹ plus there's a summary of ¹ what's new in Xara X. The demo movies are proving very popular and it's our intention to regularly release new ones - you can already find the first of these in our updated feature tour - take a look at the great photo composition movie in the Photo Handling topic.
Edition 25 of The Xara Xone WebXealot Workbook brings you further news on the release you've all been waiting for. You'll find your editor (that's me) angle on the new and improved features, a Rosetta Stone of the new vs the old buttons and icons, a preview of the new Xara Picture Editor that's included in X¹ and a look at some of the new print related features. You can purchase at any time by simply clicking the Buy Now link on the trial startup screen or going directly to our purchase page.
---
©2004 Gary W. Priester, All rights reserved. No portion of this publication,
including the illustrations contained within, may be reproduced in any way
without the express written permission of the author.