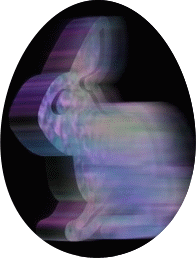 I had planned to do a follow-up tutorial this month featuring some of the really hot animation features included in Xara 2. Unfortunately, the folks here at i/us announced just this week, that Xara 2 has been canned. All the great plans we had dashed. Squelched. Stomped. Down the toilet. DOA. Kaput. Is this a bummer, or what?

!slooF lirpA

Just because we did Easter last month doesn't mean that we can't take another crack at it this month. But this month we'll mix Xara 2 and Xara 3D 2 and create a fun animated chocolate Easter Bunny. Xara 2 should be available in a matter of days so please hang in there.

If you do not have Xara 3D 2 CLICK HERE to download a free 15-day trial version.
This month's tutorial is available in HTML form for you to download
and review off line. Just click on the download tutorial button.
Download Tutorial

©1998 Gary W. Priester
Page: 1 | 2 | 3 | 4 | 5 | 6 | 7 | 8 | 9 | 10 | 11 | 12 | 13 |