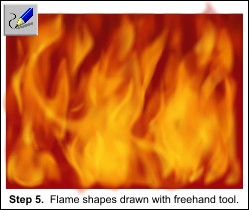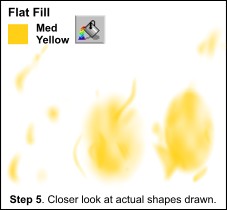 Step 5. The fifth flame shapes had a flat Med Yellow fill these were the final top highlights. Again play around with feather settings to accentuate or soften areas. I used various feathers from 4 - 10 pixels. You should only need to draw a few of these shapes. This was just tweaking what was already there. I added 2 flat filled and feathered ellipses (still in yellow) with the same fractal plasma transparencies to brighten larger areas and then sent them backwards to blend them in a bit more.
You might not get flame shapes happening as you want them to, so play around - go back if necessary and change shapes, feathers and move transparencies; or experiment with different colour combinations until you have something you like the look of.
I spent quite a while tweaking things afterwards. Such as also drawing a few coloured flames on top of lighter ones i.e. to add more contrast to any parts that were a bit too yellow or flat. I did tend to move some shapes backwards/forwards a bit to diffuse colours/bring them out and to get different patterns of colour emerging.
Now it is time to address those rectangles.
© Copyright 2002 Su Lawrence. All rights reserved.