In this issue: Winners and Stuff Insider Information News and More News! Xara Basics — A New Users Guide - Layers Joel's Cool Fills Tips and Tricks Win 2 Copies of Xara 3!!! Winners and Stuff
Congratulations go out to Pekka Saarinen, the winner of the first of three copies of Xara 3 (when it becomes available). Pekka lives in Helsinki, Finland where he is a member of the Finnish Radio Symphony Orchestra, producer and web site designer. I hope Pekka doesn't mind my disclosing this confidential information.
The winning entry was drawn at random by Blossom, our long-haired Van Calico cat. Van Calico cats are tricolor cats with pastel-colored fur. In Blossom's case, she is almost entirely white with a few bold brush strokes of pale gray and coffee with cream. She was sleeping next to the computer while I was busy writing this month's edition. At the same time I was about to scroll through the list of entries (over 150!), Blossom rolled over and inadvertently hit the down arrow on the keyboard with her paw. When she withdrew her paw, she had selected Mr. Saarinen's winning entry.
Xara and I thank all of you who entered the drawing. As promised, we will be giving away two more copies of the not-yet-released Xara 3 (next month and the month after next) which we are hopeful will be released before we have the third drawing.
If you sent in the questionnaire, there is no need to submit another. Your name will automatically be entered in the next drawing. The next two drawings will take place over the next two months.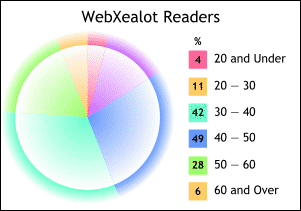 The handsome chart on the left is the breakdown of age groups of the 152 persons who responded to the questionnaire. The highest percentage is the 40 to 50 age group followed closely by the 30 to 40 age group. Your editor's age group was next with a respectable 28 percent. I guess most of the young pups have other things to do. And I was pleased to see that we have a few readers who admit to being over 60.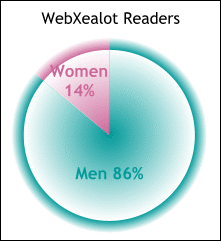 Surprising also was the percentage of male readers to female readers, 14 percent vs. 86 percent. I was hoping these numbers would be more even. If there are any women who have not submitted your questionnaires please do so so we can reduce this tremendous divide.

As you read this, the folks at Xara are busy as beavers compiling the results of the questionnaire. I'll try to include more highlights in the next issue.

Insider Information! News and More News

We are getting closer and closer to Xara 3!!! I received Beta number 2 for Xara 3. I'm pleased to say that things are coming along well. Many of the features that were not operational in the first beta are now working. I'm estimating another two months until Xara 3 is released. I know we're all growing impatient, but unlike some software companies who shall remain nameless, Xara Ltd. in England wants Xara 3 to be as bug free as possible before they release it into the atmosphere. I think we can appreciate that. I sure can.

The XaraXone News Want to be informed of all changes in the world of Xara.

CLICK HERE to add your name to the XaraXone News e-mailing list. Once you subscribe to the list you'll be notified of all matters relating to Xara, the Trompe L'Oeil Room tutorials, the Xealot and the XaraXone. Subscribe now before you forget.

The

Featured Artist for the the first month of the new millennium is your editor (that's me!). If you would like to see what I do in my spare time, drop by. The January Trompe L'Oeil Room celebrates the new millennium with a tribute to the Year 2000. If you want a lesson in creating chrome type, this tutorial's for you.

Your editor wishes to thank all of you who used the form to submit your entries and your encouraging comments. Feedback is always welcome, as are questions and even criticisms. Although the latter are perhaps just a little less welcome :-)