Here is a short tutorial to give you an idea how easy it is to create JavaScript effects using Xara Modules. In this tutorial I will show you how to create the Page Flipper effect.

Step 1 Create your images and export them as either GIF, PNG or JPEG to a folder on your computer.
For this tutorial I have created four images (shown above).
TIP: When using white type over colored backgrounds, place a duplicate of the text (Ctrl K) over the original text. The result is cleaner, more solid-looking text.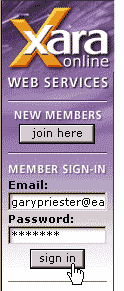 Step 2 Log on to the Xara Modules site. You will need to register and create a password. When you do this, Xara creates and places a cookie on your computer. The cookie recognizes you the next time you return so you don't have to go though the registration process again.
Step 3 Enter the Xara Modules Store.