In this issue: One Down and One to Go! Creating an Image Swap with Fireworks! The TIP Sheet Send Feedback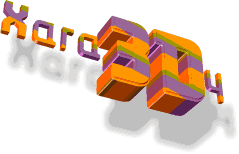 One Down and One to Go!
Wow! Look what's finally here. No, not Xara the new version, that is coming, really it is, it's the new version of Xara 3D 4 available for $35 from i/us or $39 from Xara.com. Unlike Xara, i/us is not offering an upgrade price, but i/us does not charge the 17.5% value added tax that European residents have to pay. And when you buy from i/us you help support the XaraXone. Xara.com or i/us? I'll leave it to your conscience.

To visit a handsomely designed and informative special Xara 3D 4 web site detailing all the new features, plus a mini-tour, a mini-tutorial, an order page and a free 15-day trial version version

CLICK HERE.

Your editor (still me I'm proud to say) has really scored this month. Big time! I requested a reviewer's copy of Macromedia's

Fireworks 3 for a review I was writing. And what did I get? Not one, but 3 copies of Macromedia's Fireworks 3 - Dreamweaver 3 Suite! Which means I have two copies of the suite to give away over the next two months.

To thank our friends at Macromedia for their generosity, I have created a tutorial on creating an image swap in Fireworks 3 . Image swap is the name for those cool mouse over effects that swap (display) another image and/or text message when the mouse passes over the target object. Xara, the new version, can create mouse over effects but not image swaps, so Fireworks fills an important need. It goes without saying, as a vector drawing application, Xara is second to none. But when you combine Xara's drawing power and Fireworks' web effects, you have an unbeatable team! I don't use Dreamweaver at the moment, since I write about NetObjects Fusion for Efuse.com. However, I have heard nothing but great things about Dreamweaver and now that I have a copy installed I might have to give it a shot.

Insider Information
Nothing to report on Xara the next version. I know the folks in Gaddesden Place, England are cranking away night and day getting the code to work. When Xara made the divorce final from Corel Corporation, Corel withdrew permission for Xara to include all the former fonts, fills and clip art, so among other things, Xara has to find new resources for these items. As soon as I get more news I will pass it along or you'll read it in the The XaraXone News.

The

Featured Artist for May is Cole Schweikhardt owner of Squidz Ink Design. The May Trompe L'Oeil Room visually says good by to the hot air balloon. Any hot air balloon we can think of? Hmmm. It's a good demonstration of the power of Xara's Mould Tool.

The XaraXone News— Do you want to be informed of all changes in the world of Xara.

CLICK HERE to add your name to the XaraXone News e-mailing list. Once you subscribe to the list you'll be notified of all matters relating to Xara, the Trompe L'Oeil Room tutorials, the Xealot and the XaraXone. Subscribe now before you forget.

Feedback is always welcome, as are questions and even criticisms. Even criticisms. Did I say that last month? Ah well. when you get older you repeat yourself.

CLICK HERE to send feedback.