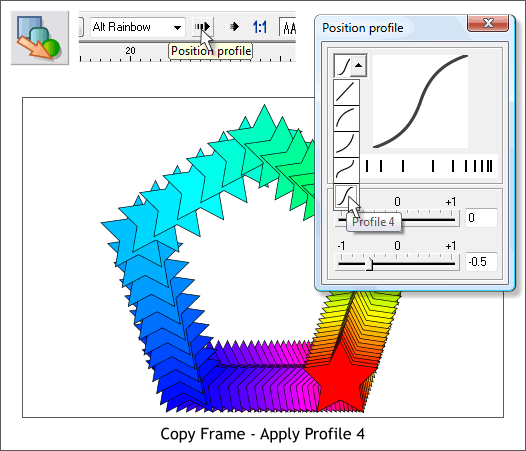 Press Copy Frame to create a new frame.
Change the Profile to Profile 4.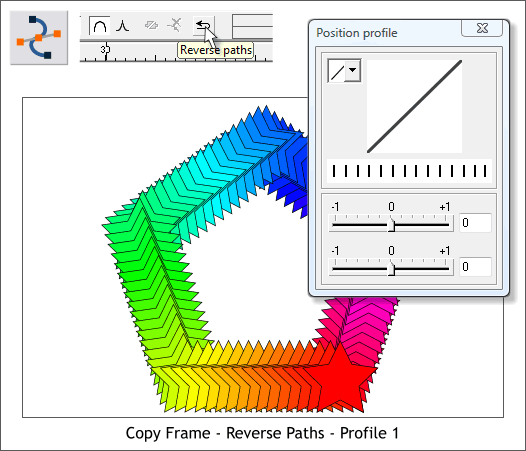 Press Copy Frame to create a new frame.
Change the profile back to none (the diagonal line icon). Select the Shape Editor Tool and press Reverse Paths.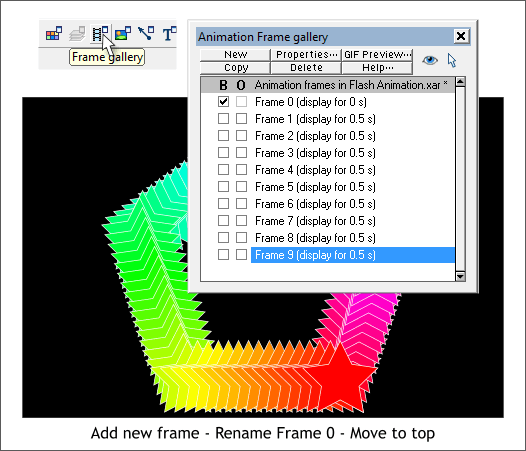 Open the Frame Gallery (F12). Press New. Drag the new frame to the top of the list and rename (double click on the frame's title bar) to Frame 0.
Add a black rectangle the size of the page. Check B (for background which causes the black frame to appear on all frames). Double click on Frame 0's title bar to open the Frame Properties dialog and change the display time to 0. Press Apply.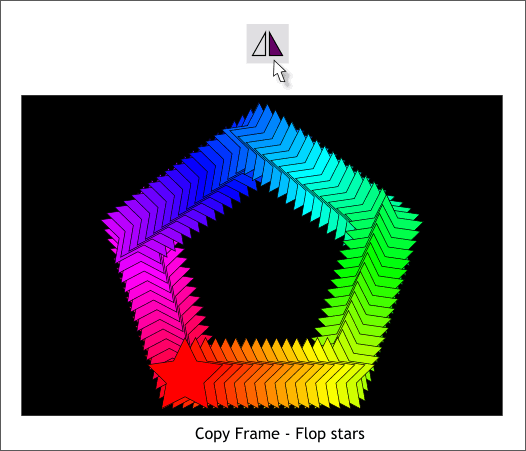 Go to frame 7. Copy Frame. Horizontally flip the blend.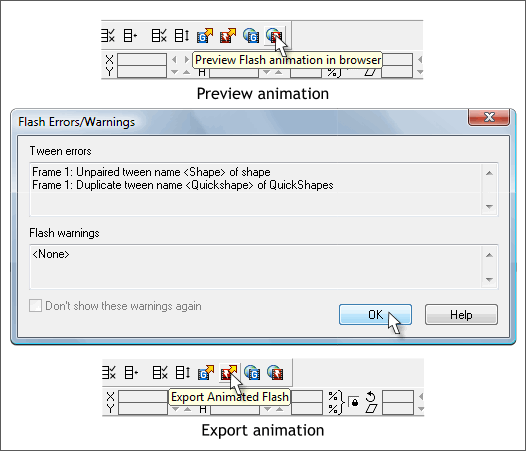 Click Preview Flash Animation in Browser. You may receive the same tween errors I received. However this did not appear to affect the animation. Click OK (what choice do you have?) and you can see the animation in your default web browser along with stats of the size of the file, etc.
When you are happy with the results, press Export Animated Flash. Xtreme creates a *.swf movie file which you can add to your web page or just amuse yourself watching it in your browser.
You can also experiment with frame display times, Attribute Profiles (this affects the distribution of the rainbow colors, and so forth. The great thing is you can't break anything. Have at it. The best way to learn is by experimenting. That's how I discovered that blend profiles work in Flash movies.
This wraps up the Workbook series for another year.
Your comments, questions, corrections, suggestions for tutorials are always welcome. Use the Send e-mail link below to send me your feedback or just to say hello. It's lonely creating these Workbooks when nobody responds.
Gary W. Priester
Your Editor (Still)