In order to make Xara Xtreme affordable to the greatest number of persons, Xara Ltd. was faced with some tough decisions. One of these was not including the Pantone color libraries which were included in previous versions, in Xtreme.
The reason for this omission is simple economics. Pantone charges a hefty fee for each copy of software that includes its color matching system libraries. And so very reluctantly the decision was made to not include these libraries in Xara Xtreme.
So that is the bad news. But the good news is if you have a previous version of Xara, such as Xara X, or X1 you can bring Pantone colors into Xtreme and use them there. Here's how.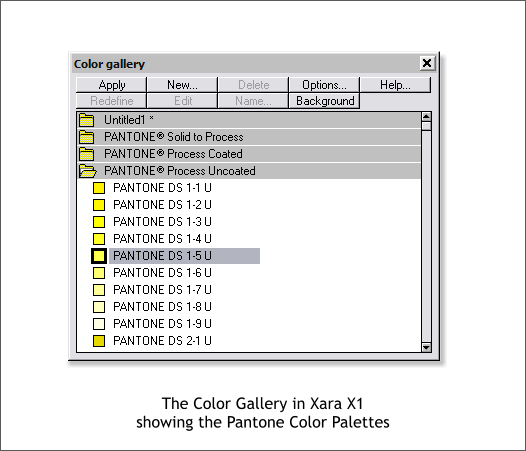 These are the Pantone color libraries in Xara X1. Solid to Process is a library of what are known as Spot Colors. These colors are intended to be printed as solid colors or as screened percentages of the solid color. For example for a 2-color logo on a business card. They are also created to be used in conjunction with the Pantone Color Specifier swatch books. Pantone Process Coated and Uncoated are CMYK versions of these spot colors. Keep in mind that only about 1/2 of Pantone spot colors can be reproduced accurately in CMYK. About 1/4 of all Pantone Spot Colors can be approximated but are not exact and the remaining 1/4 don't even come close due to the limitations of CMYK printing.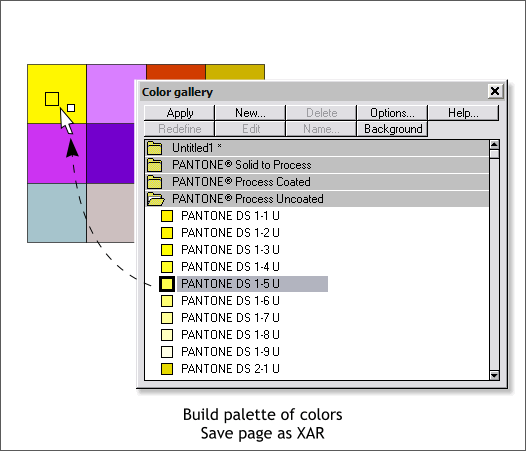 In Xara X or X1, create a set of colors that you intend to work with in Xara Xtreme. You can drag and drop the colors onto a set of squares or select a square, select a color, and press Apply . When you have a palette of colors with which you are happy, save the page as a XAR file, for example, Colors.XAR.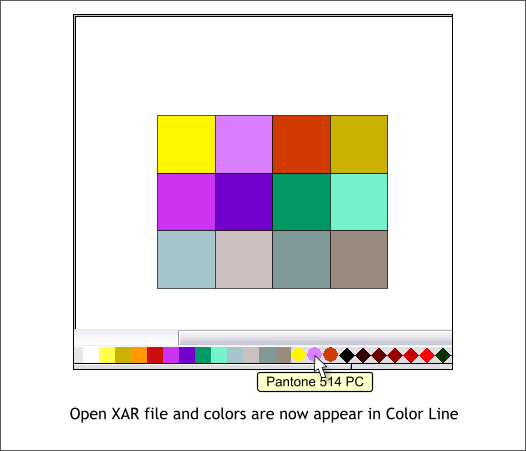 Open the colors.XAR file in Xtreme. The screen capture above shows the colors on the color line (the on-screen palette). The colors that show up as round on the color line are Spot. The others are CMYK percentages of these colors. Let the cursor rest over a color for a second or two and the name of the color will appear in a Tool Tip.
Maybe in the next version of Xtreme, we'll get the Pantone color libraries back. But in the meantime, those with previous versions of Xara installed can use this workaround to get Pantone colors into Xtreme.
NOTE: Pantone Spot Colors and Process Colors will appear closer to the actual color in the Pantone Matching System Swatch Book if you have Simulate Print Color enabled. Window > Show Printer Colors > Simulate Print Color.