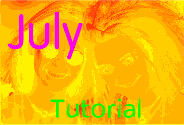 There's nothing like a gratuitous animation to draw you into this month's tutorial. Well almost gratuitous. We will use a small portion of this image as we create a three-dimensional image map with four animations. You'll need Xara 2 or Webster 2 to do this tutorial. If you've been putting off buying Xara 2 because it was too expensive (hard to imagine), as of July 1st i/us will be selling Xara 2.0 for $99.95 (or upgrade now for only $79.95!) A trial version will now be available in the XaraXone.
This month's tutorial is available in HTML form for you to download
and review off line. Just click on the download tutorial button.
Download Tutorial

©1998 Gary W. Priester
Page: 1 | 2 | 3 | 4 | 5 | 6 | 7 | 8 | 9 | 10 | 11 | 12 |