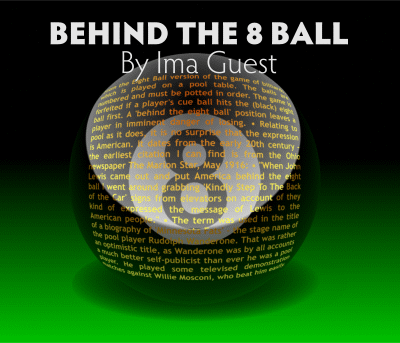 Guest Tutorial #81
©2008 Ima Guest
I have to confess to a wandering mind. To wit, while I was admiring Steve Ledger's (sledger) excellent pool balls avatar in the Xtreme Conference, and especially the 8 ball, my mind zotted off to the phrase, "Behind the 8 ball." Off I went to Google where I connected instantly to a website that explained the origins of this phrase (The Phrase Finder). And one thing led to another and ultimately to this guest tutorial which Mr. Priester was kind enough to publish, (especially after my rocky start with the drop down menus tutorial). Ack! The explanation, by the by, is shown on the 8 ball and will be part of this tutorial. But you came here to learn and not to listen to my idle chit chat, so let's get on with it.

You are probably aware of Xara Xtreme but have you downloaded Xara Xtreme 4.0 or Xtreme Pro 4.0? This tutorial was done in Xtreme Pro 4.0, so if you don't have it, better get it now before you start!


Click here to download your FREE trial version
or to upgrade to Xara Xtreme Pro today!
©2008 Gary W. Priester, All rights reserved. No portion of this publication,
including the illustrations contained within, may be reproduced in any way
without the express written permission of the author.