Creating a Water Droplet - Part I
By Su Lawrence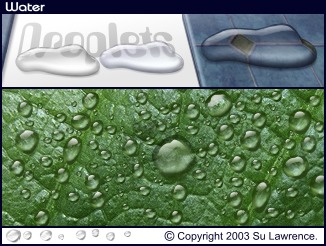 When I first created the water droplet as a mini-tutorial it was designed to go on a white surface, and the whole thing was geared for that option. However, as a general droplet tutorial I realised that a more adaptable option would be best. At the end you should have a water droplet effect that can be used on most any type of background, albeit with some tweaking of contrast, highlights and shading effects.
I used clipview objects to create some of the shading on the droplet, as this is a very similar method to the one I used for creating gel objects and also because gel objects can have similar properties to water droplets; I have created a quick 'gel and shadow method' description which will appear next month in Part II.
Leading on from this, is a technique for manipulating bitmaps to show rippled reflections in water or the distortion viewed through transparent droplets or gel objects, which will also be covered next month in Part II.