Guest Tutorial #23 Creating a Siemens C45 Mobile Phone.
By Alexander B. Bozhenov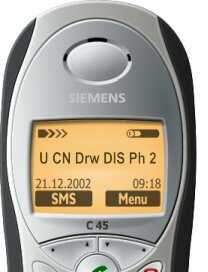 Before we start, I would like to say a few words about this tutorial. I work as designer for a company that sells cellular phones. We needed an image of the Siemens C45 cellular phone. The image of the phone was to be printed 3 x 6 meters, at least, and placed in their ad. So I decided to recreate this phone in Xara X and create a scalable vector drawing for the advertisement. The Cellular Company provided me with a two small JPEG pictures of the C45. You can see these two on the last page of the tutorial. Also I put here my Xara X file. I hope this tutorial will help you learn Xara X in greater depth and show you how perfect this software is. I'll include all main steps as screen shots.