Simple Photo Enhancing

by Gary W. Priester

In the last edition of the

WebXealot, I covered Xara's Bitmap Effects and Special Effects. In summary, I stated most of these Special Effects filters, like Resizing, and other Bitmap effects for example, have outlived their usefulness. They were developed in the early days of Xara and are a legacy of the past. Xara has new tools that are more efficient.

One exception to this is the Bitmap > Brightness and Contrast filters, (Utilities > Bitmap Effects and Plug-ins > Brightness and Contrast) which should be called Brightness Contrast and Color as there are three components here.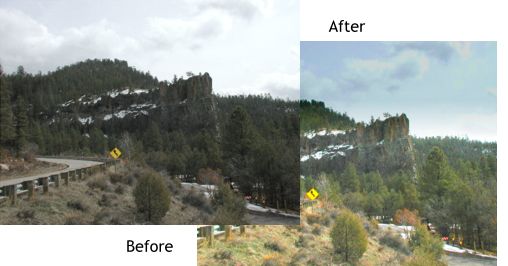 In this Guest Tutorial, I'll show you how to take a dark and lifeless photo, such as my digital photo of New Mexico's Battleship Rock (on the left), and using Brightness, Contrast, and Color , bring the photo back to life, as I'm hopeful, you can see on the image on the right.