Sometimes you need to convert objects in Xara (that you are going to use in Xara), to bitmap.
You could export the image and then import it back into Xara. But why?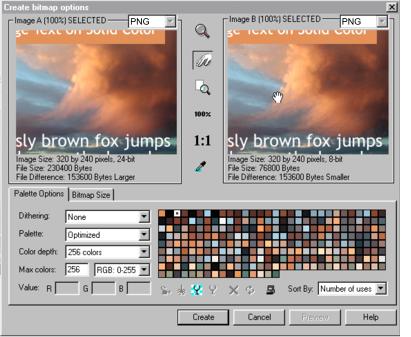 You can Create a Bitmap Copy right in Xara. There are two ways to do this: 1) right click on the selection and select Create Bitmap Copy, or 2) select this function in the Arrange pull down menu at the top of the screen.
Xara presents a range of bitmap options which we will cover in this section.
The Create Bitmap Options dialog (shown above) opens with two preview windows which you can use for side-by-side comparison. While the Help menu says we can preview the image in any number of file formats (GIF, JPEG, PNG and BMP) in reality you can only preview in PNG mode. (You can preview in these other formats when you export an image to bitmap). This is fine because PNG files can have between 2 colors to 16.7 million colors, with and without background transparency. Click in the right window and select a color depth and other options and the results are shown at the bottom of the preview window.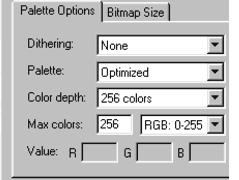 By default, Create Bitmap Copy selects a Color Depth of True Color + Alpha. This is 24 bit color with an additional 8 bits of alpha channel transparency. The other options are TrueColor (16.7 million colors), 256 colors, 16 colors and 2 colors.
When you select TrueColor with or without Alpha, the Dithering, palette, and Max. Colors options are grayed out.