We will begin this chapter on bitmaps by looking at Xara's Create Bitmap Copy command (Arrange menu or right click > Create Bitmap Copy). But before we do, let's take a moment to look at the distinction between bitmaps and vector objects.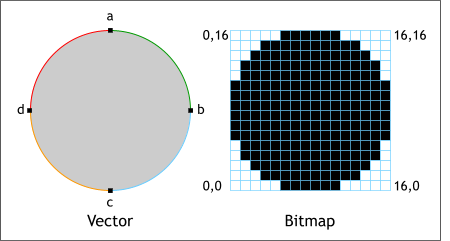 Xara is a vector graphics application that can perform some operations on bitmap objects. Confused? Well on the left are two examples of a circle, the one on the left is a vector circle while the one on the right is a bitmap. Here's the difference. Vector objects are defined by their outlines. So the vector circle can be described in terms of four points with an arc connecting each point. After the outline is defined, we can also define the circles fill, RGB 204, 204, 204 or Hexadecimal CCCCCC. And finally, a vector object is defined by its location on the page.
We can think of a bitmap circle as if it were drawn on a piece of graph paper. Bitmaps are made up of tiny pixels arranged on a grid. Like a piece of graph paper. Every square, or pixel, on the grid needs to be defined separately. The lower left corner of the bitmap is identified by the coordinates 0,0. As the squares move up and to the right, they increase in numerical value. Using our 16 x 16 square grid, shown above, a bitmap would be defined as such, pixel 0,0=white, pixel 0,1=white, pixel 0,2=white, pixel 0,3=white, and so forth until we have recorded the color of each of the 256 pixels.
Vector objects, because they are defined by their outlines, can be scaled up or down with no loss of detail. The vector circle will look smooth if we reduce it or enlarge it. The bitmap circle, because it is made up of pixels, and because pixels are a fixed size that cannot be made larger or smaller, will become jagged and pixelated if we make it too much larger. So this, in a nutshell, is the difference between vectors and pixels.