In this issue:
No News is No News!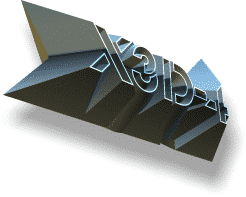 No news on Xara X to pass along although I have received another beta copy. It is coming and there are going to be a few extra surprises, which I have been asked not to reveal. So your editor's lips are sealed.

So for the time being the big news is still Xara 3D 4. If you have seen the

June Trompe L'Oeil Room tutorial, you'll know that thanks to some of the readers, we, the users have been able to show the folks at Gaddesden Place a few features they didn't know existed. This week we'll explore some of these undocumented features. We'll also learn how easy it is to create a Stepped animation.

Xara 3D 4 is available for $35 from

i/us or $39 from Xara.com. i/us is not offering an upgrade price, but i/us is not charging the 17.5% value added tax that European residents have to pay. And when you buy from i/us you help support the XaraXone. On the other hand, when you buy from Xara, you're supporting the Trompe L'Oeil Room. What to do? What to do? Xara.com or i/us? I'll leave it to your conscience.

To visit a handsomely designed and informative special Xara 3D 4 web site detailing all the new features, plus a mini-tour, a mini-tutorial, an order page and a free 15-day trial version version

CLICK HERE.

Your editor has one more copy of Macromedia's

Fireworks 3 - Dreamweaver 3 Suite to give away this month. Which brings us to the winner of the first copy. May we have a drum roll please? Are you out there Curt Brettin ? OK, a big round of applause for Curt, our first winner drawn at random by Blossom, the beautiful, but ditzy, Van Calico cat.

Curt wrote in his comments, Maybe next month you could show how to create those great navigational bars you use in The Trompe L'Oeil Room using Dreamweaver 3 since you've covered image swaps in Fireworks 3. I hope you have more news about Xara X next month. I am also looking forward to next month's The Trompe L'Oeil Room. I'm not sure about a Dreamweaver tutorial, but all the mouse rollover effects on this page, the XaraXone and the Trompe L'Oeil Room tutorials are done in NetObjects Fusion. The individual images are created in Xara and the Java Script is created in NetObjects either as auto-generated buttons or Picture Rollover effects. It's so easy, it should be a crime.

Reason why Blossom the ditz got to do the drawing is it seems all the other feathered and furred creatures have succumbed to temptation and accepted gratuities. The 20 pounds of fresh Trout delivered to the Mook was the tip off. Then I found Baxter wearing an expensive gold and platinum collar. Beanie was licking the Caviar juice off her paws. And Barnaby was so out of it on cat nip that I had to attach a lead weight to get him tethered to the ground. And I'm not even going into Wilbur and Orville finches new villa or the hens heated nesting box. You readers should be ashamed of yourself. Poor Blossom is so shy and repressed the idea of accepting a squid pro quo never occurred to her.

Insider Information
The Featured Artist for June is Anthony Noa a classically trained painter and former ballet dancer. The June Trompe L'Oeil Room explores the undocumented features in Xara 3D 4. It's a lot of fun. Really. It is.

The XaraXone News— Do you want to be informed of all changes in the world of Xara.

CLICK HERE to add your name to the XaraXone News e-mailing list. Once you subscribe to the list you'll be notified of all matters relating to Xara, the Trompe L'Oeil Room tutorials, the Xealot and the XaraXone. Subscribe now before you forget.

Feedback is always welcome, as are questions and even criticisms. Even criticisms. Did I say that last month? Ah well. when you get older you repeat yourself.

CLICK HERE to send feedback.