CLICK TO DOWNLOAD
YOUR FREE TRIAL COPY
OF XARA 3D MAKER 7
A Multidimensional Logo
I have not gone rummaging in the Clipart folder for some time. I did so
looking for gears or wheels but discovered some very elegant circular
flame designs. Like
the one shown here, found in the
Designs Gallery
>
Clipart

>

Decorations

>

Round Flames

folder. We can combine this
design with some text to create a very handsome 3D logo design.
Resize

Round Flames 040

to about the size shown. Use any fancy font
that you have. The font I used is an old font from the 60s called
MotterFemD which you can find and download on-line for free.
We will cut and paste the graphic and text into

Xara 3D Maker 7

.
Open
Xara 3D Maker 7
. Click the
Text Tool
(
Aa
) and clear the default
text. Close the

Text Options

widow.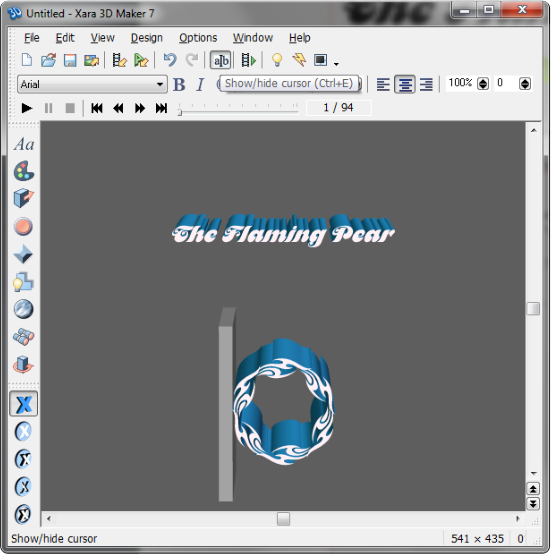 Click the

Show/Hide Cursor

icon. Copy and paste the text and then the
flame circle.
Select the

Text Tool

again. Remove the diamond after the text and
then press the

Insert Line Break

button.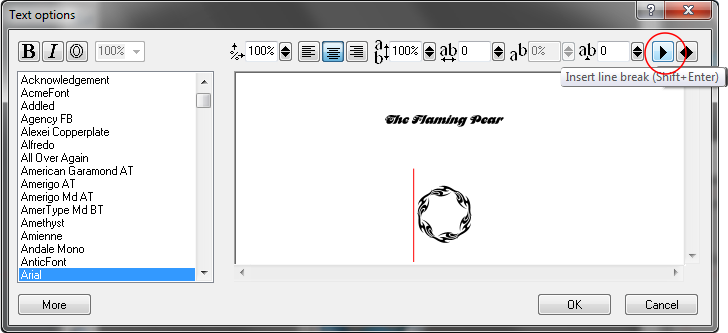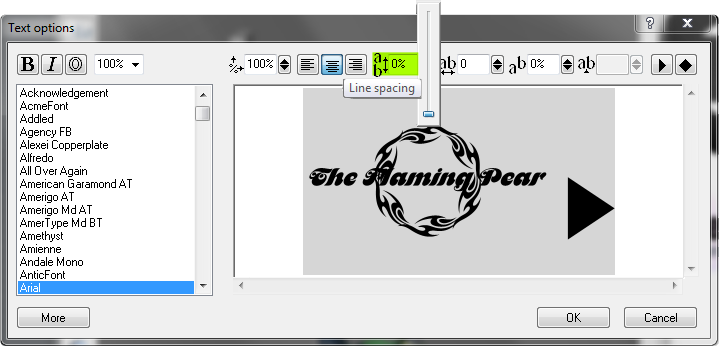 Switch back to the

Text Tool

. Highlight both the text and then flame
circle. Click the

Line Spacing

up/down arrows and drag the slider all
the way to the bottom (

0%

). This centers the text and the flame circle.
Close

Text Options

and switch back to the

Show/Hide Cursor

. Hold
down the

Shift

and use the arrow keys on your keyboard the highlight
the flame cirle. Open

Color Options

, select

Text

and change the color
to orange. Click the

Show/Hide Cursor

again and use the arrow keys to
move the cursor to the line of text and highlight it. Change the color of
the text to a pear green. It's a bit awkward but it works. Be patient.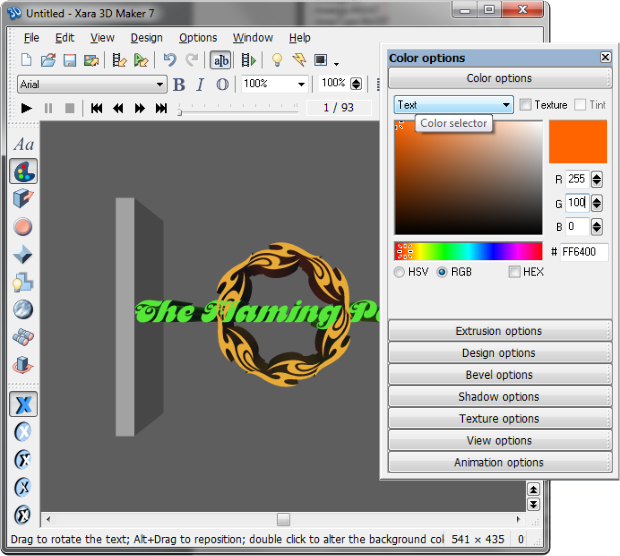 Highlight the flame circle with the

Show/Hide Cursor

. Open

Extrusion
Options

and change the

Depth:

to

30

. Open

Bevel Options

and select
60° Bevel

. Change the

Depth:

to

30

.
Now highlight the text (you may need to click the

Show/Hide Cursor
once or twice to re-enable it). Change the

Extrusion Depth:

to

45

. In
Bevel Options

, change the bevel type to

Fancy Incut 3

and increase
the

Depth:

to

30

and the type to

Round

.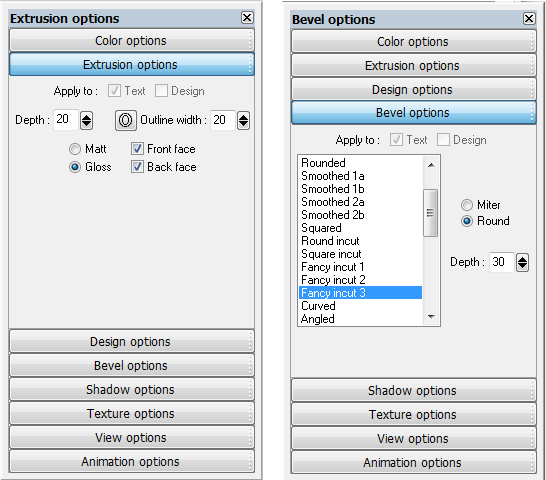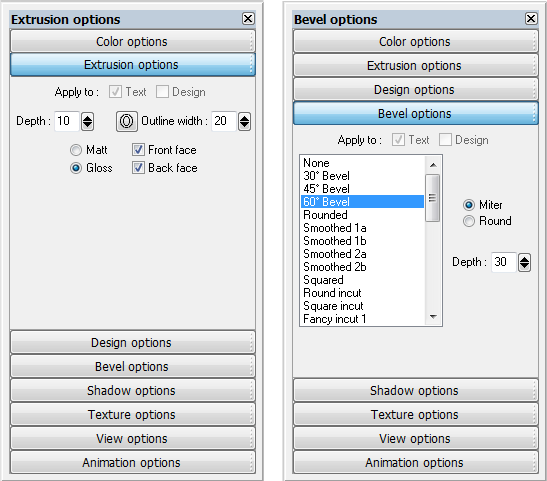 Edit the

View Options

>

Rotation:

settings as shown.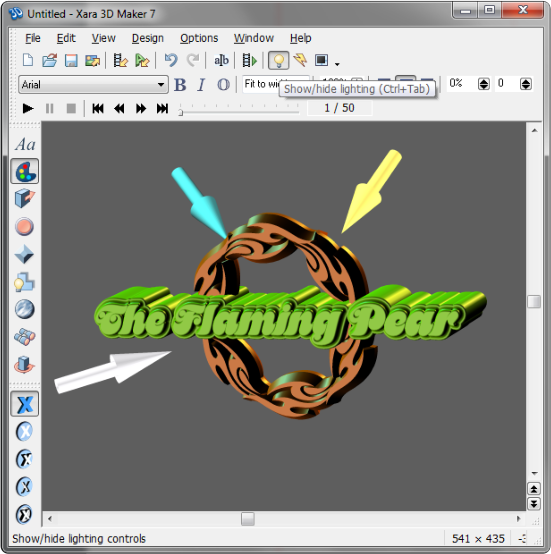 Finally, click

Show/Hide Lighting

and drag the light arrows to add
highlights. Double click on a light to open the

Color Options

if you
want to change the light color.
Export the logo.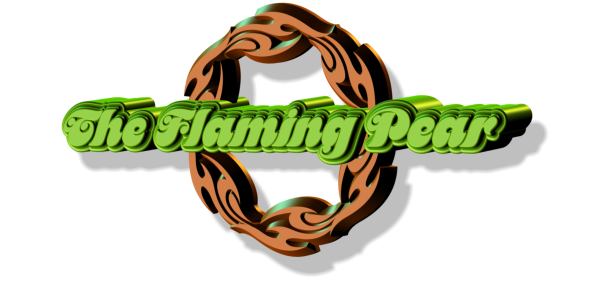 I changed the background color before exporting to the same color as
this page and then exported checking the

User Defined

Size. 2000 x
2000 is the maximum export size. I selected

True Color

and
Transparency

. This created a PNG image with a transparent
background that at a size of 6" has a resolution of 300dpi, which is
sharp enough for high quality printing.
And did I mention you can create screen savers? And cool 3D buttons?
The best way to see all the cool things you can do with Xara 3D Maker 7
download your free trial copy.
Your comments, questions are always welcome. Use the send e-mail
link to send me your feedback.
Gary W. Priester
Your Editor
Send e-mail