Sometimes one gets tired recreating the same elements time after time. For example, these tutorials. I uses the same elements over and over again. So to keep from reinventing the wheel each time I do a tutorial, I use a template I created that has rectangles for the images, centered type, fonts, and other objects that occur in each panel.
In this tutorial, we'll look at how to set up defaults and then to save these and other commonly used elements into a template file that will henceforth be available from the File > New fly out menu.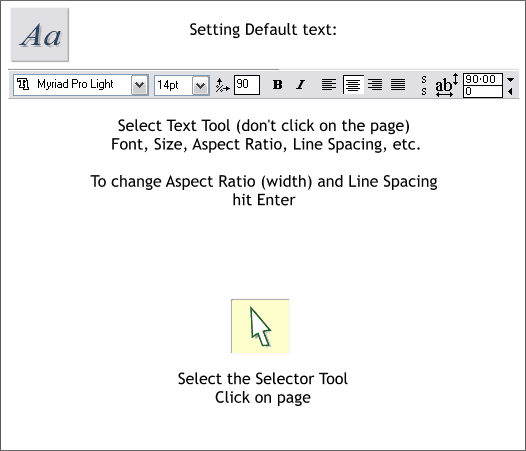 We'll begin by setting a few defaults. You can modify any of these as you like.
Select the Text Tool (F8) but DO NOT CLICK IT ON THE PAGE! Select your new default font from the drop down list. You can change the Size, Aspect Ratio (the width of the characters), Line Spacing, styles (Bold Italic) and color . If you change the Line Spacing or Aspect Ratio settings, press Enter after each change but DO NOT CLICK ON THE PAGE. When you are done, select the Selector Tool (F2 ) and now you can click on the page to change the default text settings will remain until you change them again.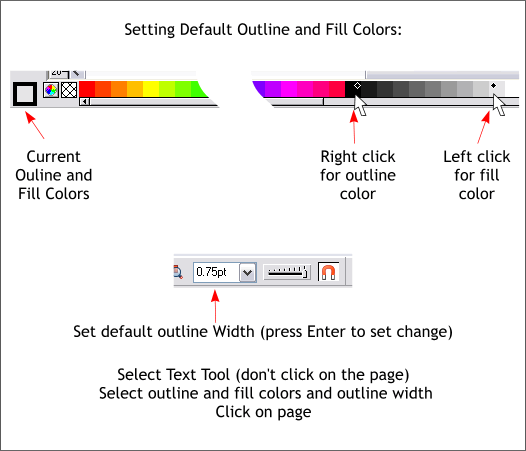 I like to use a light fill color with a black outline. And because I do a lot of Website design work I prefer my line Width to be .75pt (1 pixel). Here's how to make these changes. With nothing selected on the page, left click on a color on the screen palette to change the default fill color and right click on a color to change the default outline color. The box to the left of the screen palette shows the current outline and fill colors. To set a new default line Width, with nothing selected on the page, select a new width from the Width drop down list or highlight the text and key in a new value. Remember to do this with nothing selected. These changes will remain the default settings until you change them again.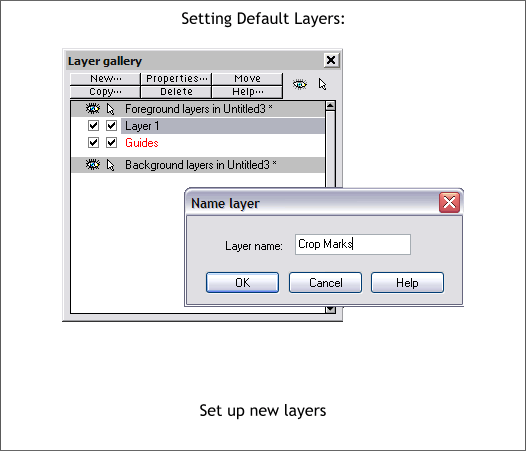 Now we will create a Template file for a business card. One of the common elements on all the business cards is crop marks. Because it is easy to accidentally delete one or more crop marks, these will go on a new and locked layer. Open the Layer Gallery (F10), press New... and enter a name for the new layer, Crop Marks.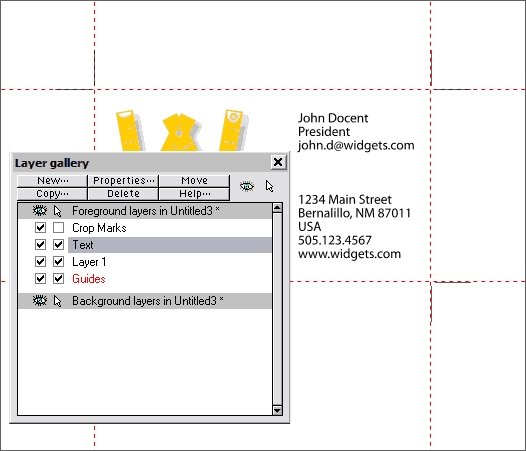 Add guidelines for the business card and then add the crop marks on the Crop Marks layer. Uncheck the edit box to lock the crops (as shown above).
Create a new layer and call it Text. Select this layer and add the business card text to this layer. If you really want to get nitsy, you can create a layer just for the text that will change. It's your call.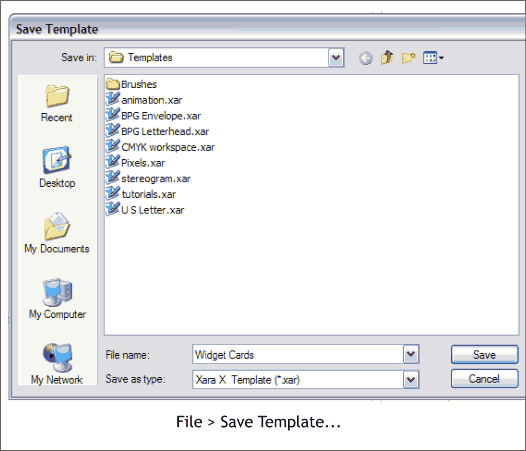 When everything is as you want it, select File > Save Template. Name your template and press Save. It is strongly suggested you save your new template in the Xara Templates folder (the default and where Xtreme will look for any new templates).
NOTE: Xtreme can only display a limited number of templates. To make sure your new template shows up, you may need to go to the C:\Program Files\Xara\Xtreme\Templates folder and remove templates you think you'll never use. At least one or two of them. If you are worried that some day you'll need one, just move it to another folder for safe keeping.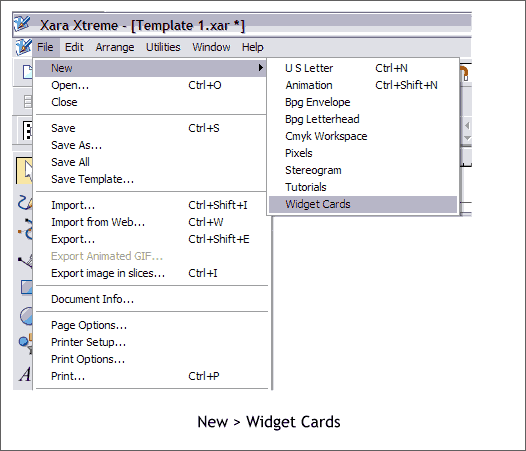 When you want to use your new template, click File > New and select your template from the fly out menu. You can see some of my custom templates for BPG Envelope and Letterhead. These are custom templates for printing my business envelopes and letterheads. Pixels is set to work in Pixels while US Letter is set to use Inches. And Tutorials is the template I use when creating these tutorials.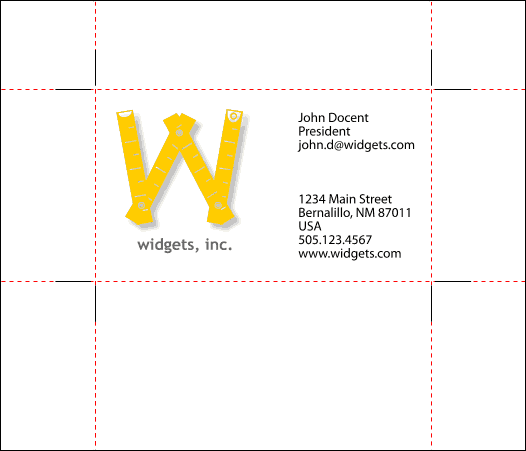 Here is the Widgets template. If this is a 2-color card you should create a layer for the yellow logo which you can export separately.