Covered in this month's Workbook:
The December Xara X tutorial uses a series of brushes to create a festive holiday winter solstice wreath. Stephen Robinson shares his really simple but effective technique for creating Plastic Text in the December Guest Tutorial. The December Featured Artist Gallery is the annual Group Show this year featuring 24 Xara artists. If you would like to be considered a solo show, or one of the group shows, e-mail me and let me know where I can see a few of your images.
I am accepting your contributions (Tips, Brushes, Templates, stuff like that). I'm starting to run out of ideas and could use your input. If your site has Xara graphics and is not listed, send me your link and a brief description of how you have used Xara on your site.
New Xara Xtreme at a New Price!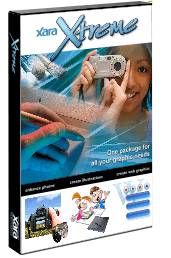 Xara X¹ has been replaced with Xtreme and you can download the new trial right now! Enhancements include:
A new Live Effects tool (Covered in this Workbook) that allows both Xara and Photoshop plug-in effects to be applied to both vector and bitmap images (and a collection of plug-ins is included)
PDF export (which brings increased llustrator compatibility among other things)
XPE improvements including new tools
You can find more details on the ¹improvements since X on our site xara.com/xtreme. And you can download the free 15 day trial which can be installed alongside Xara X¹.
How to Upgrade
The second piece of good news is that the upgrade starts at just $29* US for the CD-only version if you order before 30th November 2005. You can find more information and place your upgrade orders on our upgrade page. There is a retail version which includes a revised Xara Xone CD with the latest tutorials, an updated PDF manual and printed reference card that costs just $10 extra. There is now also the option of a 200 page printed manual, priced at $29. You can immediately unlock the trial after purchase and the CD (s) will be sent in the post.
If you chose to order, the price will be automatically adjusted to the upgrade price as soon as you sign in, so long as you use your existing account, so you will need your account email address and password. Forgotten your password? You can generate an instant automated password reminder hint on our site.
* Note: Shipping costs $5 UK, $6 Europe, $8 rest of world. VAT will be added at 17.5% if you are in Europe (EU).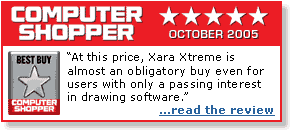 If you are still not convinced, read what Computer Shopper
has to say!

©2005 Gary W. Priester, All rights reserved. No portion of this publication,
including the illustrations contained within, may be reproduced in any way
without the express written permission of the author.