When I lived in the San Francisco Bay area, I used to take the ferry boat across the bay to work. I was always amazed at the patterns of light and dark on the ocean surface as well as the subtle colors of the water and the reflections. I attempted to draw these shapes in my sketchbook but never with much success. In Xara it is a piece of cake.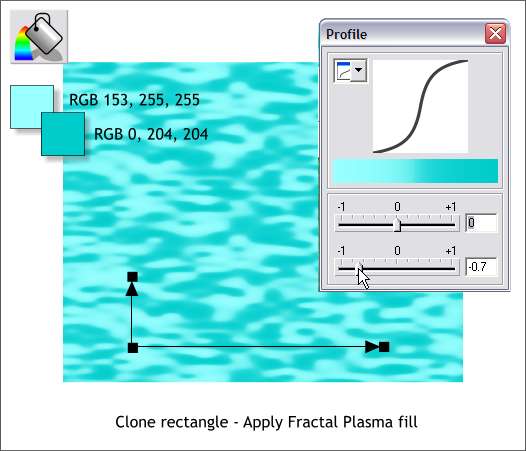 Step 1 Create another rectangle the same size as the last one. Apply a Fractal Plasma fill using the two colors shown above. Adjust the fill path arrows as shown. Open the Profile dialog. Move the bottom slider to the left to about –0.7. This makes the borders between the two colors more pronounced.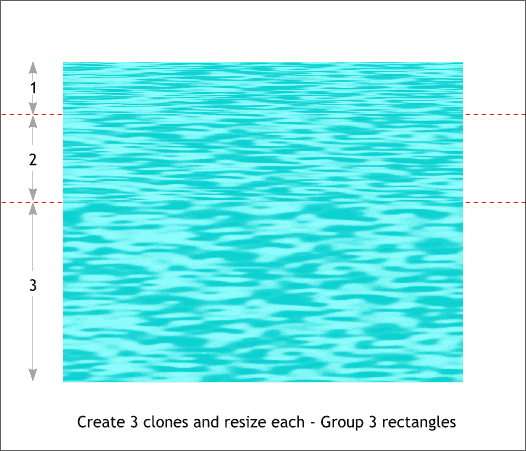 Step 2 To give the water the effect of perspective, we'll make two duplicate and resize all. Drag two guidelines from the top ruler (Ctrl L to display rulers). One about halfway trough the rectangle and another about 1/3 the height of the top half. Make two clones (Ctrl k). Resize the first clone to height of area 1, Resize the top and bottom of the next clone to the height and depth of area 2. Resize the original rectangle to the size of area 3. Group all three rectangles (Ctrl g).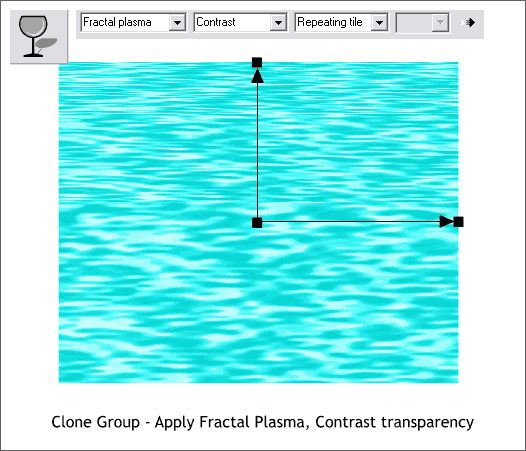 Step 3 Clone the group. Select the cloned group with the Transparency Tool and select Fractal Plasma from the Transparency Shape drop down list. Right click on the clone and two additional controls will appear on the Infobar. Change the Fractal Resolution to 60dpi and the Fractal Scale to 30%. This adds some highlight shapes to the water.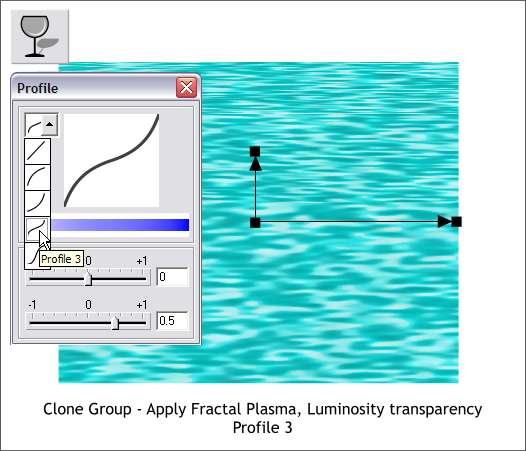 Step 4 Clone the clone. Change the Transparency Type to Luminosity. Open the Profile dialog and apply a Profile 3 profile and adjust the fill path control handles as shown.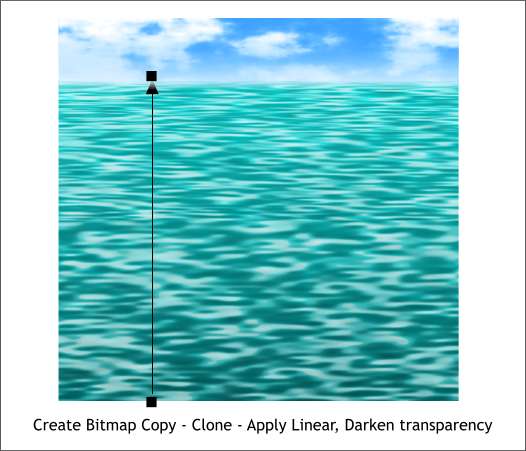 Step 5 Create a bitmap copy (Arrange > Create Bitmap Copy...) Select the True Color option (not True Color + Alpha). Hold down the Shift key and press Create to place the bitmap directly on top.
Select the bitmap with the Transparency Tool and apply a Linear, Darken transparency and adjust the fill path arrow as shown with the top transparency setting at 100% and the bottom setting at 0% . Just add a sky and there you are.
Don't worry. A sky tutorial is coming right up.