In this issue:
Covered in this month's Workbook
Covered in this month's Workbook
The March tutorial is the second part of last month's control panel image, which we exported in slices. This month we animate the small light portions of the image. Tad Bridenthal wears two hats this month as Featured Artist and Guest Tutor. Tad's Featured Artist Gallery exhibits fine art images that began life as personal photographs. In his Guest Tutorial, Tad shares some of his techniques for creating his fine art images. In the Shareware Page you will find Jim Degerstrom's RGB to HEX conversion utility that converts from RGB to HEX and back.
I am accepting your contributions (Tips, Brushes, Templates, stuff like that). If your site has Xara graphics and is not listed, send me your link and a brief description of how you have used Xara on your site.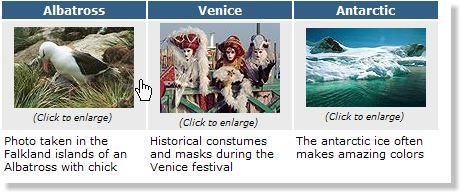 Xara Photo Gallery is the quickest, easiest way of embedding an advanced photo gallery, like the one shown in the screen capture on the left, into any website. Paste a one-line snippet of code into any web page to provide a fully functional photo gallery. Ideal for product photos or just sharing family or holiday snaps. No CGI, no scripting, no programming, and nothing required on your web server. Includes a hosted gallery website if you don't want to place the gallery on your own web pages. Photos are automatically re-sized to be thumbnails which click to enlarge. All image processing and sizing is done for you from a simple photo upload. The gallery is paginated so you can place loads of photos on just a single web page with a single snippet. It can't get any easier. Thumbnail images are optimized for maximum download speed. Edit and enhance your photos using online photo editor tools:

Fix brightness and contrast,. Enhance, size, crop, sharpen & more. Password protected admin controls to upload and edit your photo database. Fully customize the gallery. Colors, photo sizes and more. You can even have multiple separate galleries. 10 Mbytes of data and photo storage. Store up to 150 pictures for the basic price. Upgrade to any number of photos. Price includes online tools, all photo and database hosting and bandwidth charges. Xara Photo Gallery comes with a 30-day satisfaction guarantee. If you are not happy with Xara Photo Gallery, Xara will cheerfully refund your money. No fuss, No muss. Honest! Click here for more information.
The Xara Tutorials, On-line Xara X Manual
and WebXealot CD. The perfect Easter Gift!
Tens of you have asked your editor (still me hanging in there—by a thread) over the years for a CD containing the Xara Tutorials, WebXealots, and On-line Xara X Manual. Well thanks to Grant E. Remington, all this (and more) is available on a CD in Adobe PDF (Adobe's Portable Document File) file format for easy viewing and printing! (Hold your applause, please).
Grant has provided an Adobe Acrobat reader on the CD for those of you who may not have one, for viewing the PDF files. Xara Ltd. has included a folder of 19 cool fonts, not available on the Xara X CD, as well as trial copies of Xara Webstyle and Xara 3D 4. If you have never tried Xara 3D 4 you are in for a treat with this incredibly easy to use 3D and animation creation application.
So where do you order your CD and what is it going to cost? Click Here to go to Grant's site to place your order. The price for the CD which includes everything; Xara Tutorials from 1996 - 2001, WebXealots 1-35, including #s 16-35 the on-line Xara X manual, the fonts, the trial versions, the Acrobat reader, the whole enchilada, is $20.00 US which includes free shipping in the USA. The cost outside the USA and Canada is $22.00 US and also included shipping. A great price if I do say so myself.
For a small additional fee, Grant can print your own label design if you decide that you don't like all the worms featured on my handsome label design. So don't delay, order your CD today! And order several for your friends and relatives!
Thanks to all of you who have already ordered (and received) your copies. If you have not ordered yours, as they say in the TV commercials, there will never be a better time to buy!