Here is another image from the Water Prisms gallery. This fantastic star shape uses beveled glass which really creates a spectacular light display, not to mention the intrinsic beauty of the object.
Here is a fun and easy way to create a zoom bitmap effect in Xara X that is similar to Photoshop's Zoom Blur filter.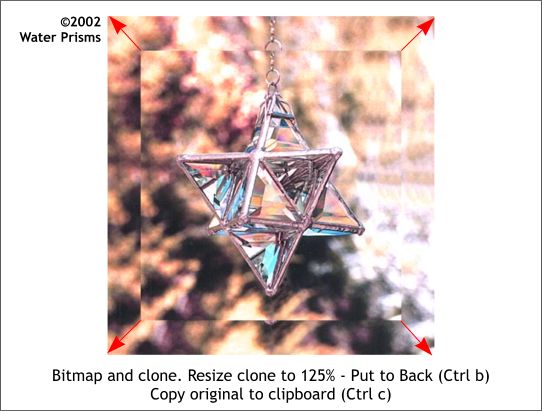 Step 1 Clone the bitmap (Ctrl k) and resize it to 125% by entering 125 in the Height or Width text entry box on the Infobar and pressing Enter to apply the change. Send the larger bitmap to the back (Ctrl b). Make a duplicate of the smaller bitmap and set it to one side. We will need it later.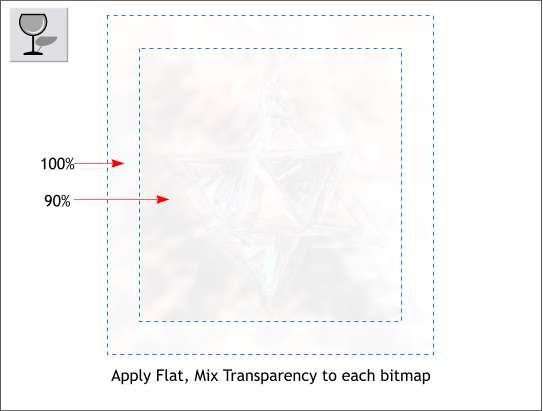 Step 2 Select the larger bitmap and using the Transparency Tool, apply a Flat, 100%, Mix transparency. The image will be invisible which is why I have added the blue dashed outlines. Select the smaller image and apply a 90%, Flat, Mix transparency. This image will be almost invisible.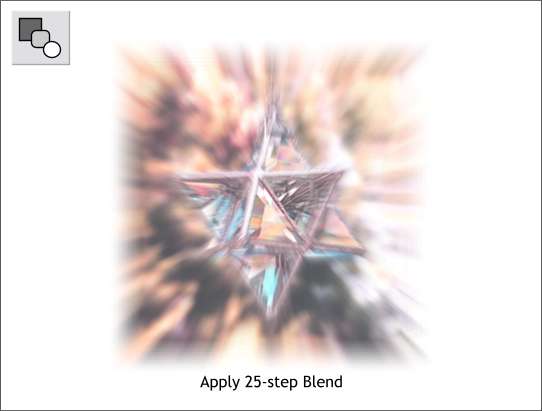 Step 3 Select the Blend Tool. Click on the larger bitmap and drag to the center of the smaller bitmap to create a blend. Change the number of Blend Steps on the Infobar to 25. Press Enter to apply the changes.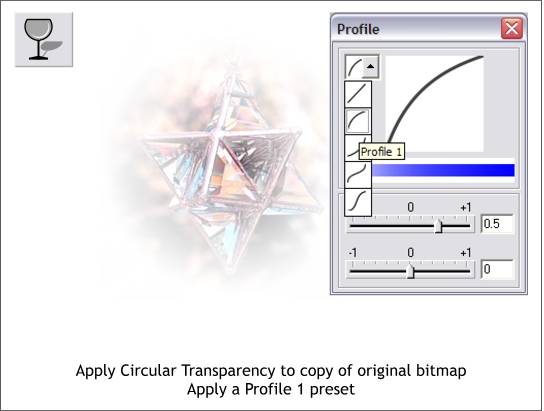 Step 4 Select the duplicate smaller bitmap that you made in Step 1. Using the Transparency Tool, apply a Circular, Mix transparency. Click the Profile arrow on the Infobar and add a Profile 1 preset.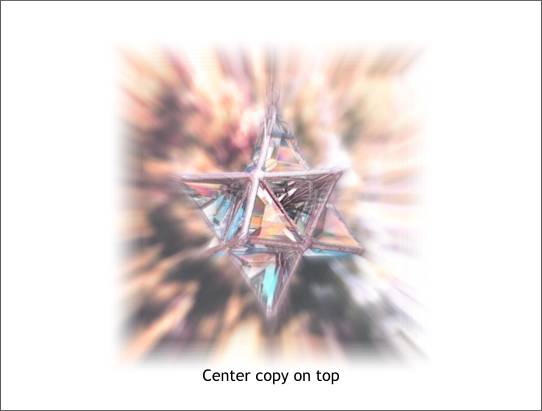 Step 5 Center the vignetted bitmap over the blend. This looks no different from the blend itself.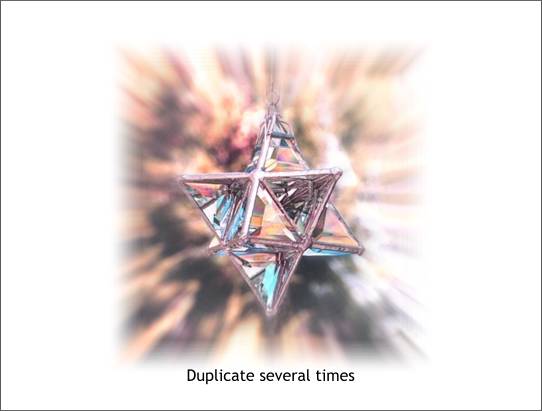 Step 6 Duplicate the vignette bitmap two or more times. The star-shaped water prism is now sharp and bright while the background is soft with a zoomed effect.
NOTE: When you achieve the desired effect (you can add additional blend steps and/or additional duplicate vignette shapes) select the whole thing and create a bitmap copy ( Arrange > Create Bitmap Copy).
Special thanks to Nancy and Jon Crouch, the talented wife and husband team who create these cool water prisms, for letting me use their images. Be sure to visit their gallery www.PlacitasArtists.com/nj_crouch to see more of their incredible water prisms.