I have started a new free Web gallery for artists in the community in which I live www.PlacitasArtists.com. I asked the artists to submit their images to a width of about 400 pixels. One of the galleries features a really cool collection of Water Prisms (www.PlacitasArtists.com/nj_crouch) made in the style of leaded glass but filled with water so when sunlight shines through the prisms, all kinds of magical rainbow light results.
The images on the current Water Prisms Web site, which they sent to me, were a little smaller than I wished and with their permission, I attempted to enlarge them in Xara without losing the sharpness of the originals. I experimented with Xara's Bitmap editing tools (Utilities > Bitmap Effects and Plug-ins > Bitmap Effects) and think I found a way to add a small amount of sharpening that is not too noticeable.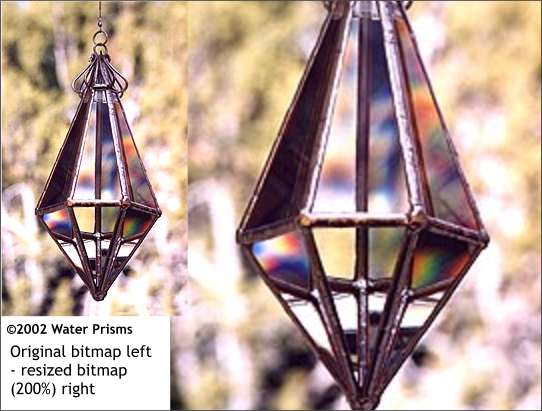 The original image in shown on the left and my resized bitmap is shown on the right. I was pretty amazed at how well the image resized without getting noticeably jagged (thanks to Xara's exceptional anti-aliasing engine). And while most of the detail from the original is still there, at this size the image looked a little fuzzier than the smaller image.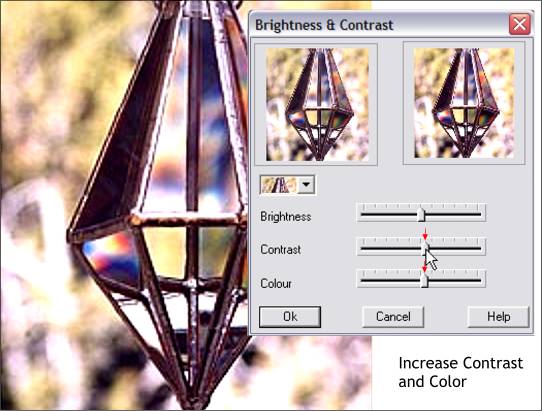 Increasing the image Contrast and Color (saturation) by a tiny amount made the color richer and gave the impression of the image being a little sharper.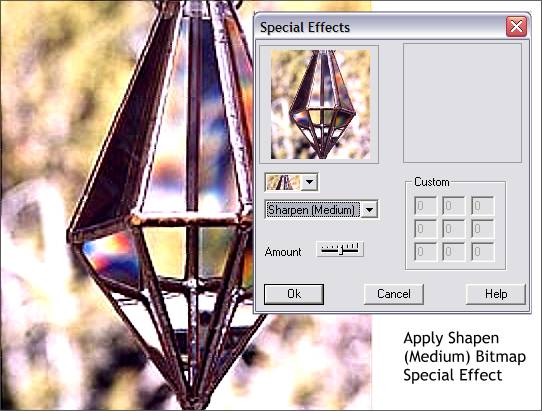 Xara's Sharpen Filters (Bitmap Effects > Special Effects) are a little too aggressive for my taste. Applying a Sharpen Medium filter to a cloned image looked jagged. Not good.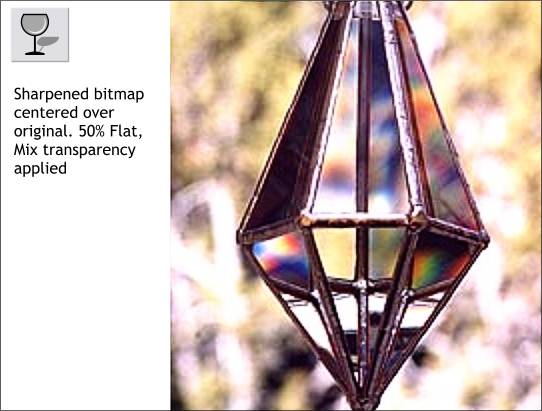 I placed the sharpened clone image over the original image and applied a 50% Flat, Mix transparency which had the effect of softening the over sharp image.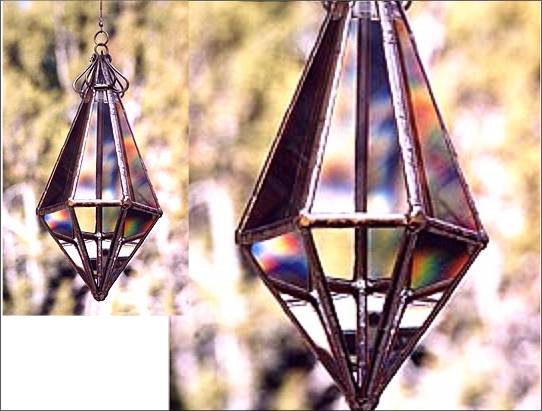 And here are the two images side by side with the image on the right, slightly sharpened.
Another approach would be to apply a Sharpen Light filter to the image twice and would probably produce the same effect. If was just a fun way to experiment with some of the Bitmap Effects filters.
NOTE: The image above was swapped with another image and does not appear on the PlacitasArtists.com Water Prism gallery.