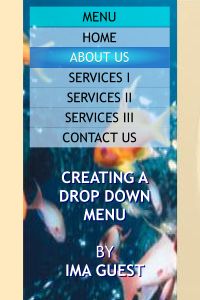 Guest Tutorial #80
©2008 Ima Guest
Several users have asked if it is possible to create drop down menus in Xtreme 4. The answer is Yes. By a clever combination of a pop up layer or layers and mouse over, mouse down layers it is possible to create a single or a series of drop down menus.
In this tutorial, Ima Guest, this month's Guest Tutor will show you how to create a semi-transparent 3-state drop down menu.
UPDATE: When this Guest Tutorial was first published, four days ago, it did not appear to be possible to create multiple drop down menus. Since then John (covoxer) has demonstrated that it is indeed possible. You just have to get the layers in the correct order. Ima Guest and I have added a new page (Page 6) that shows how to create multiple drop down menus and even a fly out submenu.

You are probably aware of Xara Xtreme but have you downloaded Xara Xtreme and Xara Xtreme Pro 4? All the tutorials in this Workbook are done in Xtreme Pro, so if you don't have it, get it now.


Click here to download your FREE trial version
or to upgrade to Xara Xtreme Pro today!
©2008 Gary W. Priester, All rights reserved. No portion of this publication,
including the illustrations contained within, may be reproduced in any way
without the express written permission of the author.