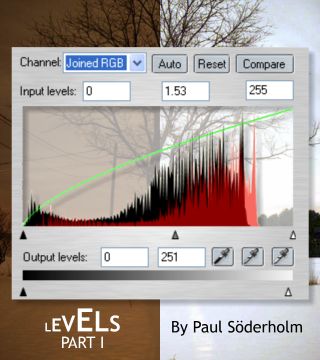 Guest Tutorial #68
Levels in Xara Picture Editor (XPE)
©2007 Paul Söderholm
The basics of Levels can be found in the XPE Help menu, and has also been introduced in The Xara Xone Workbook 55 and in the last Guest Tutorial 67 by Sally M. Bode. In this tutorial I will try to take XPE Levels to the next level (sorry for the wordplay - it's a bit lame but completely intentional :-)
I do lot of photo retouching in my work at a local newspaper and as Adobe Photoshop is the de facto standard software I cannot help comparing XPE levels with the tool in Photoshop. I often try to simulate my Photoshop workflow when I retouch photos in Xara Xtreme Pro.
In this tutorial the only tool used used in XPE is the Levels tool!
Click here to download a ZIP file with the 3 images used in this tutorial so you can work along with the tutorials. The images used are from www.morguefile.com/ a free stock photo archive,

You are probably aware of Xara Xtreme but have you downloaded Xara Xtreme Pro? All the tutorials in this Workbook are done in Xtreme Pro, so if you don't have it, get it now.


Click here to download your FREE trial version
or to upgrade to Xara Xtreme Pro today!
©2007 Gary W. Priester, All rights reserved. No portion of this publication,
including the illustrations contained within, may be reproduced in any way
without the express written permission of the author.