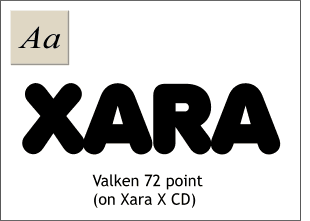 For this tutorial, we will be using a font called Valken which is available in the Xara X CD Fonts folder. You can also purchase this font from Xara's BuyFonts.Com web site for a few dollars.
Select the Text Tool on the main tool bar on the left side of the screen. Click on the screen to place the text cursor on the page. Key in XARA. Select 72pt from the Size drop down list on the Infobar at the top of the screen.
NOTE: Xara's Infobar, at the top of the screen, is context-sensitive. Different options appear there when different tools are selected.