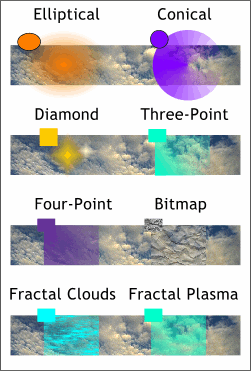 The other Transparency Shapes operate much like their Fill Tool counterparts as shown here. All transparency shown with Mix Transparency Type.
NOTE: To apply a Bitmap Transparency, select the object to which you want to add transparency, open the Bitmap Gallery, select a bitmap preview image, and press Transparency . The bitmap size may be modified as well as degrees of transparency.
NOTE: A copy of any bitmap created in, or

imported into, Xara resides in the Bitmap Gallery (on the Infobar) even if the bitmap has been deleted.