There was another odd question asked recently about repelling text around a photograph. I think the person asking the question was referring to something like a bitmap of a logo with a white background. But that would be too easy. So this last tutorial will show how to do this and a bit more.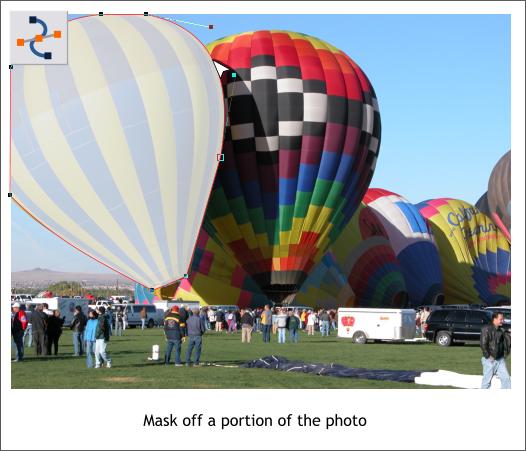 Click here to download the photo for this exercise.
Select the Shape Editor Tool (F4) and create a mask object for the balloon on the left. I have changed the fill to white and added transparency so you can see the balloon underneath the mask.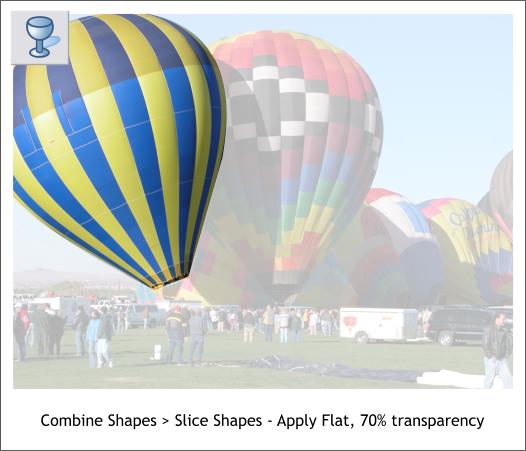 Select the mask and the photo and from the Arrange menu, select Combine Shapes > Slice Shapes or press Ctrl 4. You may not see the difference but the blue and yellow balloon is now a separate shape.
Select the photo (not the intersected shape) then select the Transparency Tool (F6). Change the Transparency slider setting to 70%. This makes the photo lighter and will permit the text to read over the photo.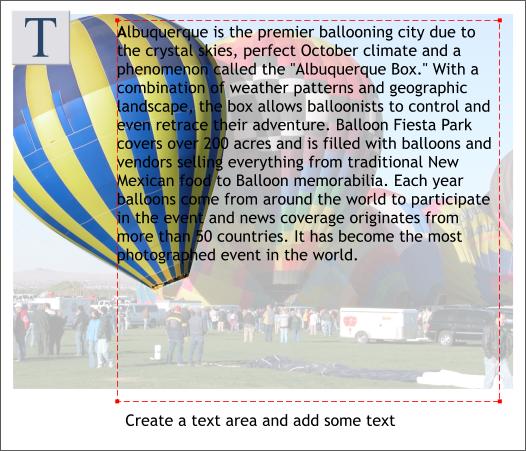 Select the Text Tool (T) and drag a text area about the size shown above. Text repel only works with a text area.
Add some text or you can add placeholder text by pressing Shift Ctrl L once or twice.
Bring the balloon shape to the front (Ctrl f). Right click on the shape and select Repel Text Under.... Change the margin to 6-10pix. More is sometimes better but you can go back and alter the distance until it looks right. Press Repel.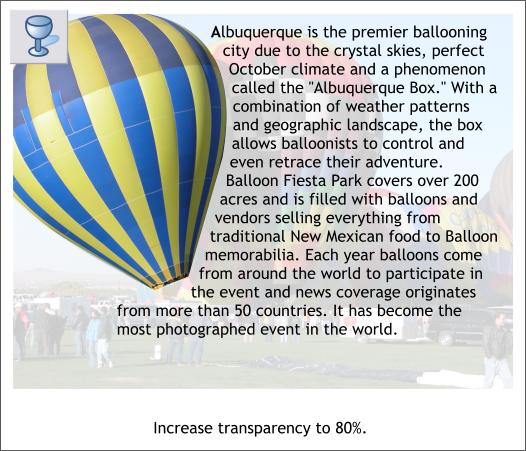 The background photo is still too dark. Increase the Transparency slider setting to 80%.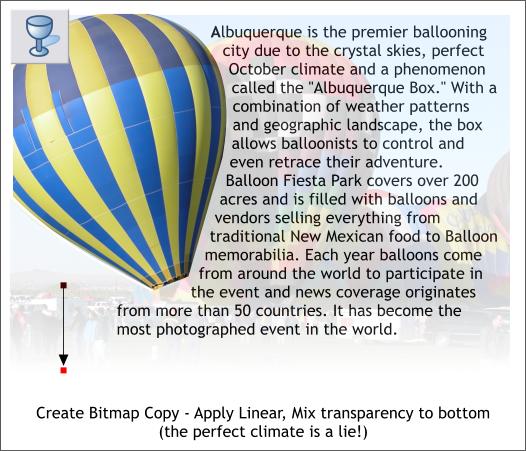 Create a bitmap copy of the larger photo, delete the original and apply a Linear Mix transparency to the bottom of the photo as shown. This is optional but adds a nice touch.
TRUTH IN ADVERTISING DEPT: You'll note the copy above refers to the "Perfect October climate." In the ten years I have lived in New Mexico, I would estimate that out of the ten days of the Balloon Fiesta, about every other day is too inclement for the balloons to take flight. But the temperatures are pleasant. More or less.

CREDIT WHERE CREDIT IS DUE DEPARTMENT: As long as I am being truthful, I need to acknowledge the ongoing support and contributions and tips of Steve Ledger (sledger ) who helped me wrap my mind around Iframes and who pointed me to IcoFx. And whose chatter makes my day. And thanks to John Horn (covoxer) for just about everything to with Xtreme and Web Designer's web page power, including the Tweakset. Thanks guys.
Comments and dare I say questions are always welcome. Use the e-mail link below to send me your thoughts.
Gary W. Priester
Your Editor
Send e-mail