Xara has had the ability to create GIF animations as well as Flash images for some time. But if you wanted to create a Flash animation, you needed to use Flash, or Swish or another Flash front end program to incorporate the Xara created SWF pages. Xtreme Pro has added a very simple and efficient way to produce and preview Flash movies. Now you have the ability to use the strength and flexibility of the world's very best drawing program to create some very exciting Flash animations. I'll cover the basics here.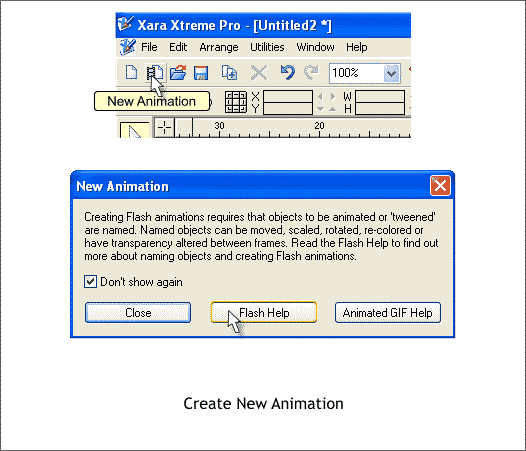 Press the New Animation icon on the Infobar.
A New Animation Help dialog appears with help for both GIF and Flash animations. For those who are not familiar with animation, GIF animations use bitmap images and are best used for small animations as the file size can grow quite large very quickly. Flash animation is best used for vector objects and type though you can also create some cool effects with bitmaps.
In Xtreme Pro, you add a start and end object and then let Xtreme Pro "tween" (an abbreviation for in between since a series of in between steps are automatically created) the animation steps based on the number of frames per second and how many seconds long your scene is. It's kind of like a blend.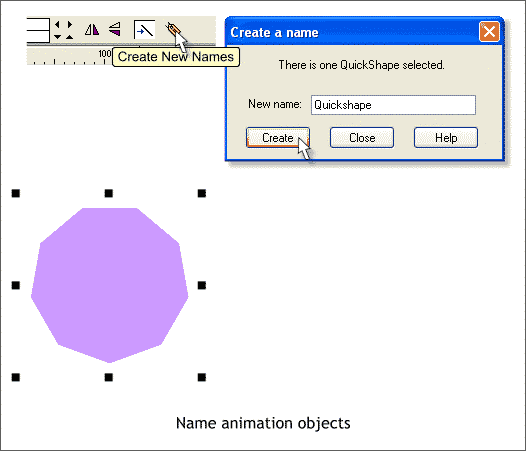 Each animation object needs to be named and needs a start and end object. In this example an 8 sided QuickShape object was created. Click the yellow tag icon (Create New Names) and name your object, or let Xtreme Pro name it for you. Press Create.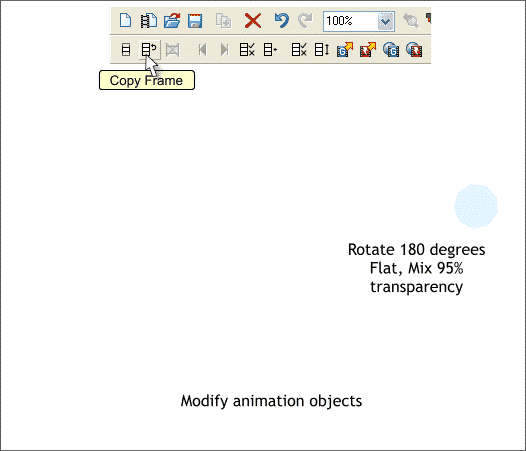 Press the Copy Frame icon (shown above). A new frame is created with all the objects from the previous frame. In this case just the QuickShape.
Modify the object to the end state. In the example above, the QuickShapes was moved to the right, rotated 180 degrees, and made almost transparent.
Â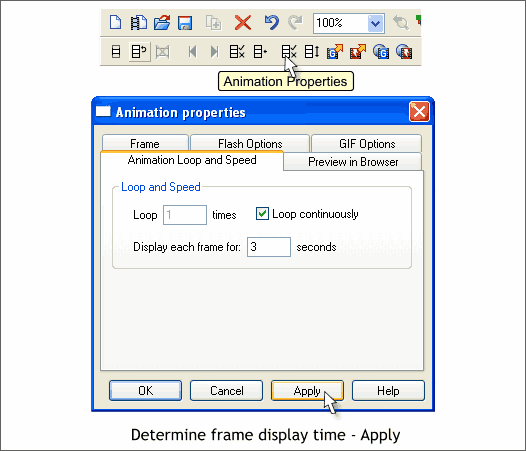 Press Animation Properties and determine a display time. This animation is set to 3 seconds which will create a very slow animation. Press Apply to apply the changesor OK to apply the changes and close the dialog.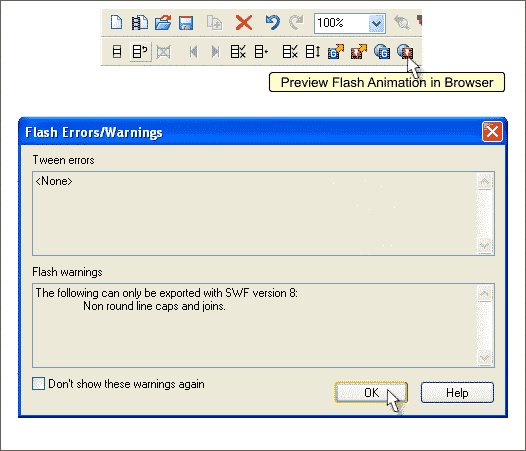 You can preview the animation in your browser (you will need to have the Adobe or Macromedia Flash player installed (click here to go to the free Flash player download page).
Press the Preview Flash Animation in Browser icon. A dialog appears to alert you of any tweening errors. For example, if your end object modifications do not work with the start object it will be listed. If you need help, just press the Help button.
Press OK and Xtreme Pro launches your browser and plays the animation.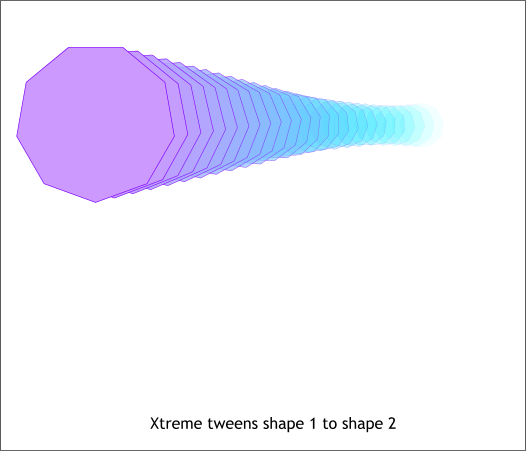 In essence, Xtreme Pro creates a blend of the start and end objects using the number of steps required and displays each transition object on a new frame.
This is a very simple example. The animation on the home page is a more complicated animation that used many objects and yet the file size is only about 14K.
When you are done, press the Export Flash Animation icon on the Infobar. And that is all there is to it.
---
Xortcuts Pro
One of the most requested feature by power users is the ability to create custom keyboard shortcut commands. Xortcuts Pro is a utility to do just that.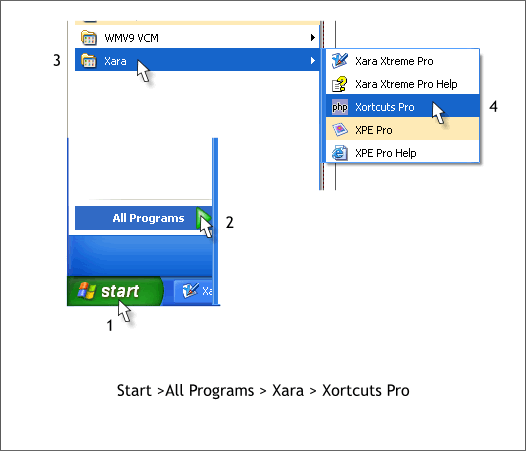 Press Start, All Programs > Xara > Xortcuts Pro.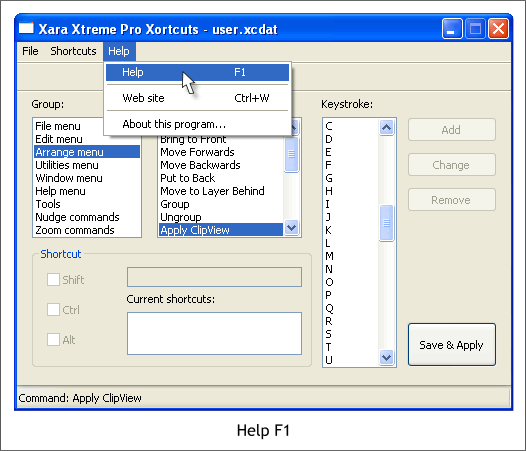 The Help menu offers a simple overview.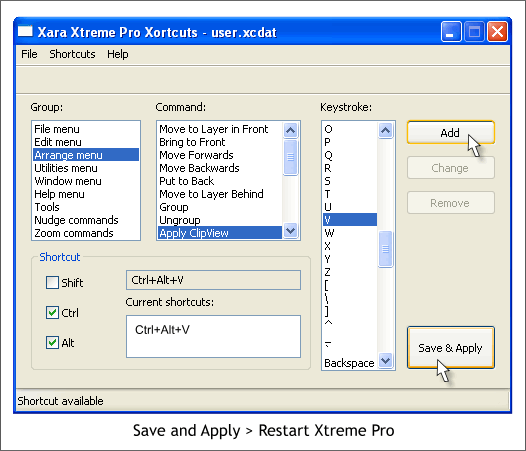 Select an appropriate character then select a short cut key or keys (Shift, Ctrl, Alt).
Press Add to add this to the current shortcuts window.
Press Save and Apply. Restart Xtreme Pro.
Xortcuts Pro does not override the current shortcut settings so you may need to try a few different combinations until you find one that works.
These shortcuts do not appear in the Xtreme Pro menus, so you may need to print out a list of your shortcuts until you have them memorized.
In the months ahead, we will cover these new features in detail. If you have any comments or questions, please use the FEEDBACK FORM on the next page.
For Pricing and more information, and to download your free trial version of Xara Xtreme Pro, click the icon below.
Gary W. Priester
Your Editor


Click here to purchase or
to download your free trial copy today!NEXT PAGE >