Xara users who have used CorelDRAW have always requested multipage capability. It's taken a while, but multipage documents are here in Xara Xtreme Pro. And once you use them, you'll wonder how you ever got along without them. Honest.
A good example. I used to do my tutorial illustrations on a custom template I created with 4 illustrations per page. I would save each 4 illustrations as a separate file. Now I can just keep adding pages.
You can print any or all pages and you can export an entire multipage document as a multipage PDF document.

The first sign of the multipage capability is a new icon on the Infobar representing 2 pieces of paper and a plus. Let your cursor rest over the icon and you discover the rather lengthy name for this icon. And I always thought Change the Size of the Feather Region was long for a tool tip! Press this New Page icon and a new page, just like the one you are currently working on is added. If you have guidelines on your current page, they will be added to the new page.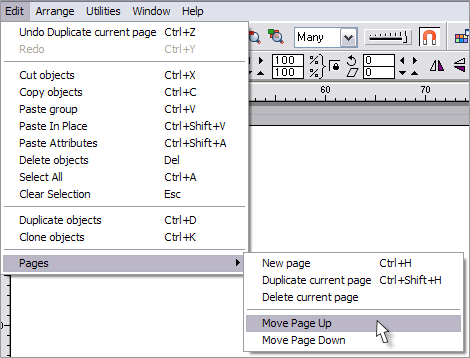 There is a new addition to the Edit men, Pages which offers more new page options. Duplicate Current Page creates a new page with everything that is on the current page including Guidelines. Move Page Up and Move Page Down applies to the current page. Selecting an object on a page establishes the current page.

You can also navigate up and down through the document by pressing the new up and down arrows on the bottom right of the Status Bar.
You can drag objects or drag and drop objects from one page to another though it is a bit disconcerting to see those objects disappear between the pages but reassuring when they reappear on the new page.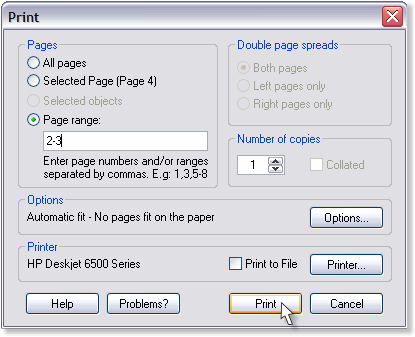 Which brings us to the redesigned Print dialog. When printing a multipage document, you can print All Pages, the Selected Page (the current page), or a range of pages, Page Range . Separate page numbers with a comma for individual pages, for example, pages 2, 4, and 7. Use a hyphen to indicate a range of pages, for example pages 6-12. You can also print a combination of comma separated individual pages and a hyphen separated set of sequential pages.


Click here to purchase or
to download your free trial copy today!